Liability for Texting and Driving Accidents in Pennsylvania
June 11, 2022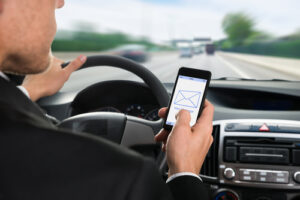 Pennsylvania has a texting-while-driving ban. This means that drivers are prohibited from sending or receiving texts while driving. If either the other driver or a witness confirms they were texting at the time of the crash, then they will usually be held liable. Continue reading to learn more about liability for texting and driving accidents in Pennsylvania.
Read more: What NOT to Do after a Car Accident
Consequences of Texting and Driving in Pennsylvania
Texting and driving in Pennsylvania can lead to the following consequences:
A $50 fine
Payment of court costs and fees
Currently, a texting and driving charge does not come with points. It is also not listed on the driver record for a non-commercial driver. However, in addition to fines, drivers who text and drive are more likely to be in a car accident.
Can You Sue a Driver for Texting and Driving?
While texting when driving is technically negligence, the problem is that it is not always easy to prove. It can be difficult for a driver to identify that another driver was indeed, texting when they caused the auto accident. Filing a legal claim requires that you provide proof of the negligence that led to the accident and doing so, is not always easy.
But, if the driver admits to being on their phone when the accident occurred, or a witness identified them, then it is a strong case for negligence.
Read more: How Will I Get Paid if I Can't Work After my Accident?
Important Elements of a Personal Injury Case
A personal injury case is made up of the following important elements:
Duty of care: All drivers owe a legal duty of care to other drivers on the road. This means following all laws and avoiding things like texting and driving.
Breach of duty: In order to prove liability, you must identify that the responsible driver breached that duty of care. If there is proof that the driver was texting and driving, this is an example of negligence.
Causation: The negligent actions of the responsible driver must have been the cause of the accident. Texting and driving is a direct correlation that could lead to the cause.
Damages: There must be actual damages present that can be compensated through a personal injury claim. However, if you received medical bills or had to take time off from work, it is likely that you have these costs.
Your lawyer can help you prove these elements by collecting medical records and a copy of the police report. Witness statements can be especially effective in identifying negligence with texting and driving.
Read more: My Car Was Totaled and I'm Not at Fault: Now What?
What to Do If You Are Involved in an Accident With Texting
If you believe that the other driver was texting and driving, which led to your accident, you should notify the police when filing a report. They may investigate the situation further. However, even if they don't charge the driver, you may have options if you're sure that texting and driving was involved.
Even if you don't have proof of texting, you may have other options available. These options can help you seek compensation for the damages you have experienced, as well as the costs that you are likely to have in your recovery. Other behaviors, like speeding or aggressive driving, can also be considered negligent.
Contact a North East Personal Injury Lawyer to Discuss Your Auto Accident Case in Pennsylvania
Did you or a loved one sustain serious injuries due to an auto accident in Pennsylvania? Don't let the medical bills pile up while you wait for the negligent party or their insurance company to do the right thing. Right now, you need an aggressive personal injury attorney on your side, fighting to get you the compensation you need, want, and deserve. The skilled attorneys at Purchase, George & Murphey, P.C. represent clients injured because of distracted driving accidents in North East, Meadville, Erie, Harborcreek, and throughout Pennsylvania. Call (814) 833-7100 or fill out our online contact form to schedule a free consultation about your case. We have an office conveniently located at 2525 W 26th St. Erie, PA 16506, as well as offices in Meadville and North East, PA.
The articles on this blog are for informative purposes only and are no substitute for legal advice or an attorney-client relationship. If you are seeking legal advice, please contact our law firm directly.