Erie, PA Personal Injury Lawyers
Experienced Erie, PA Personal Injury Lawyers Help Accident Victims Get Compensated for the Negligence of Others in Erie County, Crawford County, and Throughout Pennsylvania
Accidents happen. It's part of life. However, when a so-called accident was caused by another party's negligence and you were harmed, the law provides a way to obtain compensation for your damages. Wage loss, medical expenses, pain and suffering, and other costs associated with your injury may be recovered by filing a personal injury claim. The dedicated Erie, PA personal injury lawyers at the law firm of Purchase, George & Murphey, P.C. seek compensation for victims' losses and damages in a wide variety of personal injury cases. We have the knowledge, experience, and skill needed to build strong cases for our injured clients.
The Personal Injury Cases We Handle in Erie, PA
Our experienced Erie, PA personal injury lawyers undertake injury claims involving:
Such cases often involve the use of investigators and experts who help tell the story of the accident and the effect it had on your life. We dig deep to find the best legal strategy for each case. This gives clients the best chance of obtaining the compensation they need and deserve.
Settlement / Commercial Truck Accident
Settlement / Motorcycle Accident
Settlement / Medical Malpractice
How We Help Erie, PA Accident Victims Recover Money for Their Injuries
Our trusted Erie, PA personal injury lawyers believe strongly that well-informed clients are the key to successful outcomes in personal injury cases. Victims of personal injury are under a lot of stress and want to feel confident that they have the support needed to work through the legal process. As a personal injury client with Purchase, George, & Murphey, you can expect ongoing updates about the progress of your case. Our experienced Erie, PA personal injury lawyers will make sure that you understand the choices you need to make along the way. Over the years, we have found our "client partnership" method of addressing personal injury cases to be highly effective.
What You Can Expect from a Successful Personal Injury Claim in Erie, Pennsylvania
Although each case is different, a successful Pennsylvania personal injury claim can result in compensation for:
Medical expenses, including hospital stays, doctor visits, medications, and surgery
Lost income (past and future) if you are unable to work because of your injuries
Physical therapy
Durable medical equipment
Cost of home remodeling for accessibility
Pain and suffering
Disfigurement
Disability
Why Hire Us to Handle Your Erie, PA Accident Claim?
Our Erie, PA personal injury lawyers and the rest of the legal team at Purchase, George & Murphey, P.C. are experienced, compassionate, and highly knowledgeable. In addition, two of our attorneys are former insurance company counsels who know all the strategies used to limit the amount paid to injured clients and who now put that knowledge to work for our clients. Visit our testimonials page to see what our clients say about their personal injury case results.
"The office of Purchase, George and Murphey, P.C. was easy to work with, knowledgeable and respectful. I highly recommend working with them! They made an unbearable situation calm and controlled. The truly devote themselves to the clients they work with."
"Mr. Purchase's kind words of wisdom have positively impacted my life forever. He is the most caring, attentive, and knowledgeable attorney that I have had the pleasure of working with. His entire staff was respectful and extremely helpful during the legal process. Mr. Purchase and his team deserve all 5 out of 5 stars and then some."
"Very Professional and hard worker. I would recommend Tim George to anyone looking for a lawyer who will fight for you because he believes in you, in what he's doing, and he's very good at it. Worth every cent and very glad to have found him and his services."
"Attorney Craig Murphy did an excellent job with my case. He got me the money I deserved from a motorcycle accident. I definitely would recommend him to my family and friends."
"I highly recommend Purchase, George & Murphey, P.C. for your personal injury needs. Mark was knowledgeable & professional, guiding me through the process until a final settlement was reached. He was helpful & deliberate and, as a result, the compensation for my injury was way above & beyond what I expected. I was thrilled with the outcome!"
Schedule a Free Consultation With The Experienced Erie, PA Personal Injury Lawyers At Purchase, George & Murphey to Discuss Your Accident Claim Today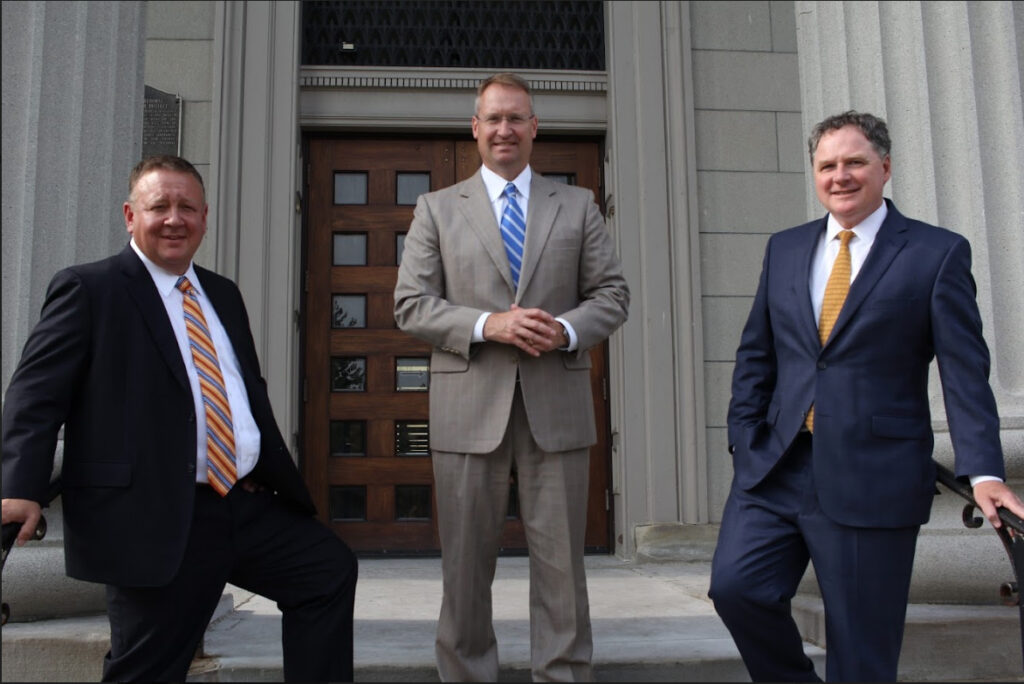 The first step to ensuring you receive fair compensation for a personal injury is to speak with an experienced personal injury lawyer. At Purchase, George & Murphey, P.C., our skilled Erie accident attorneys are here to help answer any questions that you have. Your case review is always free, so call or contact us today by calling 814-273-2010, completing the contact form, or using our online chat service. We look forward to talking with you and getting you started on the road to financial and legal recovery as soon as possible.
Frequently Asked Questions About Personal Injury Claims in Erie, PA
Although anyone can suffer a personal injury, most accident victims have very little idea what to do to hold the responsible party accountable. Our experienced personal injury lawyers at Purchase, George & Murphey, P.C. are here to help. Here are some answers to some of the most frequently asked questions about personal injury claims in Erie and Western Pennsylvania:
FAQ: I was injured in an accident. How do I know if I have a valid personal injury claim for compensation?
In some cases, it may be clear that someone's negligence caused your accident and should be held responsible for your injuries. Most personal injury cases are not so clear. You might not even know exactly what happened to cause the accident—because accidents happen quickly. Our personal injury lawyers have decades worth of experience evaluating potential personal injury claims. We know what to look for to determine whether you have a claim. We can even conduct an investigation to get the evidence needed to support a finding that someone else's negligence caused your injuries. The best way to know is to schedule a free case review with an experienced injury lawyer.
FAQ: What is a personal injury claim?
A personal injury claim is a claim for compensation for an accident victim who suffered injuries. The accident and injuries in a personal injury case must have been caused by someone else's negligent or reckless behavior. Personal injury claims can stem from any number of different accidents, from car accidents, motorcycle accidents and truck accidents to slip and fall accidents and dog bite incidents.
FAQ: What types of compensation am I entitled to recover in a personal injury lawsuit?
Available compensation—or "damages"—are divided into three basic categories: (1) economic damages, (2) non-economic damages and (3) punitive damages. Economic damages include compensation for actual expenses, things like:
– Medical bills,
– Lost wages,
– Property damage,
– Rehab costs,
– Diminished earning capacity,
– And more.
Non-economic damages are the more subjective damages designed to compensate you for how the injury has impacted your life. Pain and suffering, emotional distress, diminished quality of life, and loss of the company of a loved one are all examples of non-economic damages.
Punitive damages are rarely awarded unless the at-fault party acted intentionally or was so reckless that a court finds it appropriate to award additional damages just to punish that person.
FAQ: How much compensation will I be entitled to recover in a personal injury lawsuit?
The actual compensation award available is different in every case. Factors that are relevant in determining the level of compensation you will receive include:
– The severity of your injury and whether it was permanent,
– How the injury impacted your life,
– Whether you can return to work or return to work in the same capacity,
– How the accident occurred,
– The available insurance coverage or financial ability of the at-fault party to actually pay.
FAQ: Is there anything that I should keep to help make sure I get fair compensation for my personal injury?
Yes. You should remember to keep every piece of documentation related to the accident—including all medical bills, paperwork given to you by the doctor, any documentation related to your missed work or missed social activities and any other documents related to your accident and injury. This type of hard evidence can be extremely useful for your lawyer in arguing for your right to full compensation.
FAQ: What if the at-fault party claims that I am partially responsible for my accident? Can I still recover compensation in a personal injury lawsuit?
Yes, as long as you are not found to be more than 50% responsible for the accident. Your compensation award will be reduced under Pennsylvania's modified comparative negligence rule. For example, if you are awarded $100,000 and found to be 30% responsible for the accident, your personal injury award will be reduced to $70,000 (by 30%).
FAQ: Are there any actions that I should not take in order to increase my chances of getting the most compensation available?
You should refrain from giving any statements to the insurance company, especially recorded statements, without first talking to an experienced personal injury lawyer. Insurance adjusters often try to get accident victims to make statements that could reduce the insurance company's liability. Even innocent statements can be used against you later. Additionally, stop posting on social media until your case is resolved. Social media posts can often be obtained even if you think your privacy settings will keep your information private. It's best to simply stop posting to avoid giving the insurance carrier ammunition to challenge your claim.
FAQ: Do I have to go to court to recover compensation for my personal injury?
In most cases, we can reach a fair settlement agreement outside of court. However, we are fully prepared to advocate on your behalf in court if necessary to get you the compensation we need. At Purchase, George & Murphey, P.C., our lawyers take our clients' preferences seriously. We always make sure you understand the options so that you can make an informed decision.
FAQ: What types of considerations are important in deciding which personal injury law firm to hire?
The experience and proven track record of your personal injury lawyer are obviously highly valuable. Some lawyers may not specialize in personal injury or may not be familiar with your jurisdiction—meaning that they could make mistakes that could ultimately cost you money. It's also important to get information about your firm's billing practices. For example, Purchase, George & Murphey, P.C., we work on a contingency basis. That means you do not have to pay us attorneys' fees up front—in fact, you only pay if we win compensation for you. Also, make sure that your actual attorney will be available to handle your case—which includes answering your questions throughout the process and keeping you informed.
FAQ: How soon do I have to decide whether to file a personal injury claim?
While acting sooner is always better, Pennsylvania law gives you a two-year timeframe (known as the "statute of limitations") to file a claim. Certain exceptions exist in the case of minors and in some medical malpractice injury cases.
FAQ: Where can I find more information about personal injury cases?
Please check out our General FAQ page for answers to a number of common questions about personal injury cases.
FAQ: When Should I Hire A Personal Injury Lawyer?
FAQ: What is a Good Settlement Offer?
FAQ: Can I File a Claim If I'm At Fault In An Accident?