Meadville, PA Personal Injury Lawyers
Experienced Personal Injury Lawyers Skillfully Represent Accident Victims In Meadville And Throughout Crawford County Pennsylvania
Many people take precautions to keep themselves safe — wearing seat belts, not texting while driving, installing smoke detectors, and reading safety labels before using the equipment. And, in most cases, those safety measures provide the intended protection from accidents. But there are times when even those precautions won't protect you — such as when another person is negligent and their irresponsible behavior causes you to suffer harm. When accidents are caused by someone's negligent actions, personal injury law protects those individuals who have been harmed by providing a legal mechanism to recover compensation for their losses. Whether you sustained an injury in a slip and fall accident, a car accident due to someone driving while under the influence (DUI) of alcohol or drugs, or another type of accident, the experienced Meadville, PA personal injury lawyers at Purchase, George & Murphey, P.C. are here to help. Our personal injury legal team skillfully represents accident victims in Meadville and throughout Crawford County, Pennsylvania, with a track record of successful outcomes.
Contact us today by completing our convenient online contact form, using our chat feature, or by giving us a call. We look forward to speaking with you and getting you started on the road to financial and legal recovery as soon as possible.
Skilled Meadville, PA Personal Injury Lawyers Handle Broad Range Of Accident Claims
Negligence is at the heart of personal injury law and it must be proven in order to file a claim. If a homeowner was negligent and did not repair broken steps which resulted in a fall, that may be considered negligence. If a store owner did not alert customers as to a wet floor and this resulted in a slip, that failure to alert others as to a safety hazard may be considered negligent.
There are many different types of accidents that may result in a personal injury claim. At Purchase, George & Murphey, P.C., our skilled Meadville, PA personal injury lawyers handle a broad range of accident claims including — but not limited to — any of the following:
If you or a loved one has sustained an injury in an accident that was caused by another person or entity's negligent actions, contact the accident attorneys near Meadville, PA from Purchase, George & Murphey, P.C. for a free, no-obligation consultation.
Settlement / Commercial Truck Accident
Settlement / Motorcycle Accident
Settlement / Medical Malpractice
Dedicated Meadville, PA Personal Injury Lawyers Protect The Rights Of Accident Victims And Recover Full Compensation For Their Losses
When an accident leaves you injured, with hospital or doctor bills to pay, don't despair. If your accident was caused by another person's negligent actions, you may be compensated for the losses you have endured. Under personal injury law, injured victims may file a claim to recover losses — known as "damages" — for their physical injuries, emotional pain, and more. At Purchase, George & Murphey, P.C., our dedicated Meadville, PA personal injury lawyers protect the rights of accident victims and recover full compensation for their losses including — but not limited to — any of the following and more:
Hospital expenses
Expenses for medical treatment
Cost for emergency room visit
Surgical costs
Cost of in-home assistance
Physical rehabilitation costs
Cost of prescription medications
Expenses for doctor visits
Future anticipated medical expenses for the injury
Loss of income
Loss of future earning capacity
Emotional pain and suffering
Mental anguish
Loss of life enjoyment
Loss of companionship
Lost earned vacation time and sick time
When an accident victim has sustained damages that are not monetary losses — such as mental anguish or emotional pain and suffering — the Pennsylvania courts will evaluate the losses and assign a value that they deem is appropriate for those losses. To learn more about the level of compensation you may be entitled to recover for your personal injury claim, schedule a free, no-obligation case evaluation with a dedicated personal injury lawyer at Purchase, George & Murphey, P.C.
"The office of Purchase, George and Murphey, P.C. was easy to work with, knowledgeable and respectful. I highly recommend working with them! They made an unbearable situation calm and controlled. The truly devote themselves to the clients they work with."
"Mr. Purchase's kind words of wisdom have positively impacted my life forever. He is the most caring, attentive, and knowledgeable attorney that I have had the pleasure of working with. His entire staff was respectful and extremely helpful during the legal process. Mr. Purchase and his team deserve all 5 out of 5 stars and then some."
"Very Professional and hard worker. I would recommend Tim George to anyone looking for a lawyer who will fight for you because he believes in you, in what he's doing, and he's very good at it. Worth every cent and very glad to have found him and his services."
"Attorney Craig Murphy did an excellent job with my case. He got me the money I deserved from a motorcycle accident. I definitely would recommend him to my family and friends."
"I highly recommend Purchase, George & Murphey, P.C. for your personal injury needs. Mark was knowledgeable & professional, guiding me through the process until a final settlement was reached. He was helpful & deliberate and, as a result, the compensation for my injury was way above & beyond what I expected. I was thrilled with the outcome!"
Talented Meadville, PA Personal Injury Lawyers at Purchase, George & Murphey, P.C. Provide High-Quality Legal Representation to Residents of Crawford County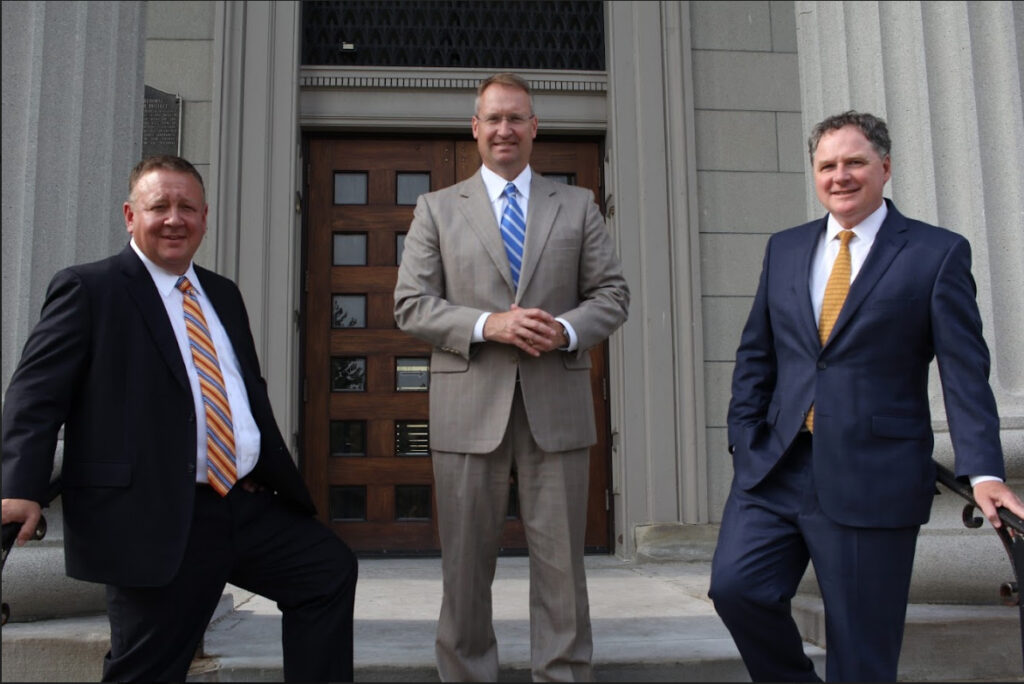 The trusted Meadville, PA personal injury lawyers at Purchase, George & Murphey, P.C. are dedicated to providing quality legal representation to residents of Crawford County. Our accomplished legal team fights on behalf of accident victims to recover the compensation you deserve.
To learn more about the services we provide and our track record of successful personal injury claim outcomes, arrange for a confidential consultation with a member of our team today.
About Meadville, Pennsylvania
The city of Meadville, Pennsylvania, is the county seat of Crawford County. Located less than 40 miles from Erie and 90 miles from Pittsburgh, Meadville was the first permanent settlement in northwestern Pennsylvania. Meadville is home to approximately 13,000 residents and serves as an active center for industry, education, business, recreation, the arts, service, and tourism.
Frequently Asked Questions About Personal Injury Claims in Meadville, Pennsylvania
FAQ: I was injured in an accident that was caused by another person's negligent behavior. What should I do first?
If you were injured in an accident that was the result of another person's negligent behavior, there are several important steps to take. First and foremost, if you suffered a serious injury, report the accident to the police. Get prompt medical attention for any injuries that you sustained. Obtain the contact information from the party that caused the accident as well as from any witnesses to the accident. Then consult with an experienced personal injury attorney about your accident. The personal injury lawyers at Purchase, George & Murphey, P.C. offer a free confidential consultation.
FAQ: Are there time limits for filing a personal injury accident claim in Pennsylvania?
Yes. Each state has different legal deadlines for filing claims in court, which are known as "statutes of limitations". In Pennsylvania, the statute of limitations for filing a personal injury claim is two years from the time the accident occurred. Be mindful of this timeframe. Claims that are filed after this deadline expires may be dismissed by the Pennsylvania courts.
FAQ: When should I hire a personal injury lawyer?
FAQ: What is a good settlement offer?
FAQ: Can I file a claim if I'm at fault in an accident?