Cambridge Springs, PA Personal Injury Lawyers
Cambridge Springs, PA Personal Injury Lawyers Advocate For Victims of Accidents Caused By Negligence
Being involved in an accident can be a traumatic and life-changing experience. Whether you have been hurt in a car accident, a slip and fall accident, or another type of accident, there is a certain vulnerability that comes with being an accident victim. And when another person's negligence caused the accident to occur, it can lead to feelings of anger and frustration towards the at-fault party because the accident didn't have to happen. At Purchase, George & Murphey, P.C., we understand and are here to help. Our Cambridge Springs, PA personal injury lawyers protect the rights of accident victims and advocate tirelessly on their behalf to recover the compensation they deserve for their injuries and other losses.
Schedule a free case evaluation with a member of our team today so you can make the most informed decision regarding your personal injury claim.
Results-Driven Cambridge Springs, PA Personal Injury Lawyers Skillfully Represent Accident Victims and Throughout Crawford County
At Purchase, George & Murphey, P.C., our results-driven Cambridge Springs, PA personal injury lawyers skillfully represent accident victims who have been harmed in a broad range of accidents that were caused by others' negligence. Our accomplished legal team has successfully handled personal injury accident claims that stem from any of the following accidents and more:
Personal injury law is intended to provide protection to those individuals who are harmed in accidents that are caused by negligence. In the eyes of the law, the type of accident that took place is not as important as whether or not the accident was the result of negligence.
Settlement / Commercial Truck Accident
Settlement / Motorcycle Accident
Settlement / Medical Malpractice
If you or a loved one was harmed in an accident and you are wondering whether your accident meets the negligence criteria to file a personal injury claim, schedule a free consultation with a knowledgeable Cambridge Springs, PA personal injury lawyer at Purchase, George & Murphey, P.C.
Dedicated Cambridge Springs, PA Personal Injury Lawyers Fight To Recover Full and Fair Compensation For Accident Victims In Crawford County, Pennsylvania
When another person — or entity — behaves recklessly and this behavior causes an accident in which someone is harmed, the injured victim is protected under the law. Personal injury law provides a legal mechanism for injured parties to pursue compensation from the at-fault party by filing a personal injury claim.
At Purchase, George & Murphey, P.C., our dedicated Cambridge Springs, PA personal injury lawyers fight on behalf of accident victims to recover full and fair compensation for their accident injuries and other losses. These losses — known as "damages" — may include any of the following and more:
Medical expenses
Hospital bills
Cost of emergency room visits
Bills for surgical procedures
Cost of in-home assistance
Expenses for physical rehabilitation
Cost of prescription medications
Expenses for doctor visits
Future anticipated medical expenses for the injury
Lost income
Loss of future earning capacity
Mental anguish
Emotional pain and suffering
Loss of an individual's enjoyment in life
Loss of companionship
Lost earned vacation time and sick time
Wondering what level of compensation you may be able to receive for your accident? Arrange for a free, no-obligation case evaluation with a knowledgeable accident attorney near Cambridge Springs, PA from Purchase, George & Murphey, P.C.
"The office of Purchase, George and Murphey, P.C. was easy to work with, knowledgeable and respectful. I highly recommend working with them! They made an unbearable situation calm and controlled. The truly devote themselves to the clients they work with."
"Mr. Purchase's kind words of wisdom have positively impacted my life forever. He is the most caring, attentive, and knowledgeable attorney that I have had the pleasure of working with. His entire staff was respectful and extremely helpful during the legal process. Mr. Purchase and his team deserve all 5 out of 5 stars and then some."
"Very Professional and hard worker. I would recommend Tim George to anyone looking for a lawyer who will fight for you because he believes in you, in what he's doing, and he's very good at it. Worth every cent and very glad to have found him and his services."
"Attorney Craig Murphy did an excellent job with my case. He got me the money I deserved from a motorcycle accident. I definitely would recommend him to my family and friends."
"I highly recommend Purchase, George & Murphey, P.C. for your personal injury needs. Mark was knowledgeable & professional, guiding me through the process until a final settlement was reached. He was helpful & deliberate and, as a result, the compensation for my injury was way above & beyond what I expected. I was thrilled with the outcome!"
Schedule A Free, No-Obligation Consultation With A Member Of Our Team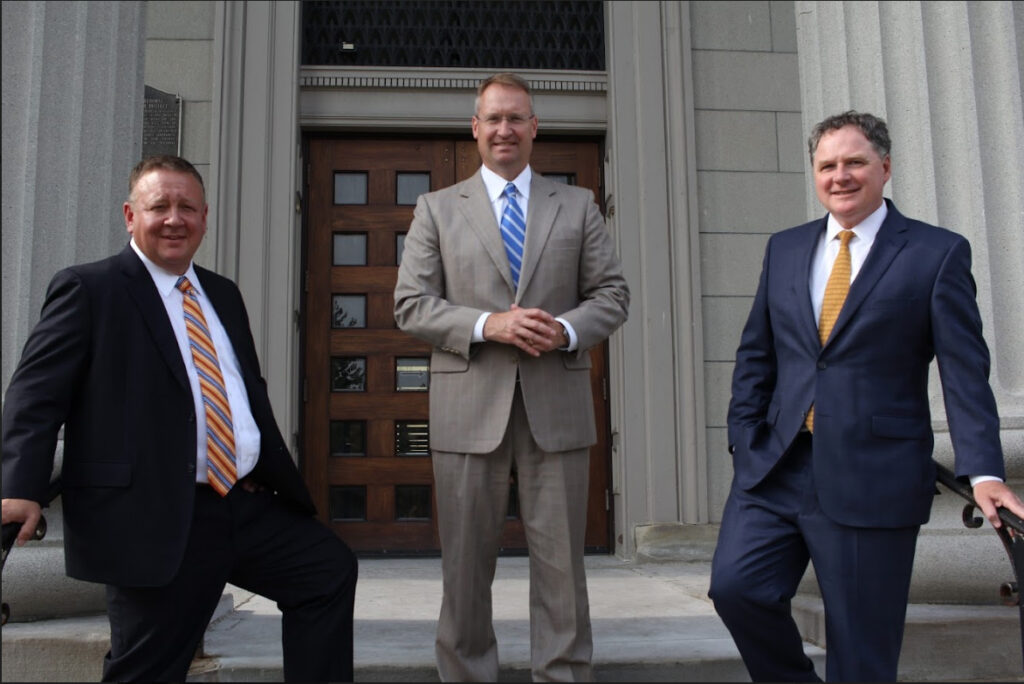 If you have been injured in an accident, you most likely have questions about whether or not you have the basis for a personal injury claim. You also may be wondering what type of compensation you may receive for your injuries. At Purchase, George & Murphey, P.C., our Cambridge Springs, PA personal injury lawyers are here to provide answers to those questions and more. Schedule a free, no-obligation consultation with a member of our legal team today.
About Cambridge Springs, Pennsylvania
The borough of Cambridge Springs, Pennsylvania is located in the northwestern region of Pennsylvania, in Cambridge County. Home to 2,639 residents, Cambridge Springs was named for the town of Cambridge, Massachusetts.
Frequently Asked Questions About Personal Injury Claims in Cambridge Springs, Pennsylvania
FAQ: I fell on a loose step and was injured. The property owner who is responsible for maintaining the step claims that the accident was my fault. What should I do? Can I still recover compensation?
It is not uncommon for property owners to claim they have no liability when someone is hurt on their property. Property owners and businesses look to shift blame for any accidents on another party, even if it is the accident victim themselves. In situations where more than one party is responsible for an accident, Pennsylvania follows "modified comparative negligence" rules. Under these comparative negligence rules, the level of compensation that the injured person can recover will be impacted if they share some level of responsibility for the accident. Specifically, any damages award you are entitled to receive from the Pennsylvania court will be reduced by a level that equals your percentage of fault for the accident. So if, for example, it is determined that you share 20 percent of the fault for your slip and fall accident, your compensation will be reduced by 20 percent. To learn more about how the level of fault may impact your accident claim, consult with an experienced Cambridge Springs, PA personal injury lawyer at Purchase, George & Murphey, P.C.
FAQ: If some of the losses sustained in an accident were not monetary losses — such as pain and suffering — how do the Pennsylvania courts calculate these damages in a personal injury claim?
Many accident victims suffer emotional pain and suffering or mental anguish as a result of the trauma of the accident and the injuries that are inflicted. In determining the economic value of these losses, the Pennsylvania courts consider all aspects of a personal injury claim and then assign a monetary value that they deem is appropriate.
FAQ: When should I hire a personal injury lawyer?
FAQ: What is a good settlement offer?
FAQ: Can I file a claim if I'm at fault in an accident?