Do Car Crashes Really Increase During the Holiday Season?
December 23, 2020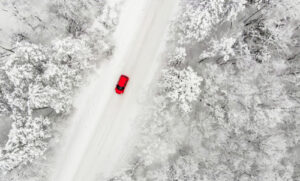 According to statistics from the National Highway Traffic Safety Administration, two of the deadliest driving days in the U.S. are December 23rd and 24th. Another university found that motor vehicle accident rates go up approximately 20 percent the week of Christmas compared to Thanksgiving week.
The days immediately prior to and after Christmas can pose increased hazards out on the road for several reasons, including:
Drinking and Driving
Studies show that a sizable percentage of all auto accident-related fatalities (in some years, as high as 40 percent) occur in accidents where at least one of the drivers was legally intoxicated. The holidays often mean office parties, get-togethers with friends and loved ones, and holiday dinners with family — many of us will choose to consume alcohol during these social events. Although everyone knows not to drink and drive, after a person has had a couple of drinks, their lowered inhibitions may convince them that they're "okay" to drive after only "having a few."
However, not only is it against the law to drive drunk, it is also against the law to drive "buzzed." While it is categorically unlawful to drive if you have a blood alcohol content of .08 percent or greater, you can still be charged with and convicted of DUI/DWI even with a lower blood alcohol content when your intoxication has rendered you unable to safely operate a motor vehicle.
Read more: Don't Let a DUI Ruin Your Holiday Season
Stress and Road Rage
Although the holidays are meant to be a time of celebration, they also bring a lot of stress for many of us, including holiday shopping, planning and cooking for parties and dinners, or perhaps rushing to get work done before taking time off at the end of the year. Unfortunately, the stress that can be caused by the holiday may also lead drivers to engage in road rage or reckless driving, especially in heavy traffic when a person feels like they have too much to do and not enough time to do it.
You can help reduce feelings of stress while out on the road by leaving yourself plenty of time to get to your destination or run your errands, so that you don't feel the need to speed or drive carelessly or recklessly to get where you need to go in time.
Read more: How to Build a Personal Injury Claim after a Car Accident
Increased Traffic
The holidays are easily the busiest time on the road. More vehicles of course means more opportunity for auto accidents. Holiday traffic can also contribute to increased accident rates as many people on the road may be out-of-towners visiting family and friends who aren't familiar with the area and are unsure of where they are going. You can help keep yourself safe in increased traffic by giving yourself extra time to get to your destination and avoiding any erratic or unsafe drivers (such as vehicles that are speeding, weaving in and out of traffic, making sudden turns or lane changes, or not keeping with the pace of traffic).
Unprepared Vehicles
Finally, another major reason why auto accidents happen during the holidays is some drivers' failure to ensure that their vehicles are prepared for wintertime driving. This includes exchanging summer tires for winter or snow tires, getting an oil change, keeping antifreeze and wiper fluid levels topped off, and otherwise taking care of all recommended maintenance on their vehicle.
Read more: My Car Was Totaled and I'm Not at Fault: Now What?
Contact an Erie Personal Injury Lawyer to Discuss Your Motor Vehicle Accident Case in Pennsylvania
Did you or a loved one sustain serious injuries due to a motor vehicle accident in Pennsylvania? Don't let the medical bills pile up while you wait for the negligent party or their insurance company to do the right thing. Right now, you need an aggressive personal injury attorney on your side, fighting to get you the compensation you need, want, and deserve. The skilled attorneys at Purchase, George & Murphey, P.C. represent clients injured because of motor vehicle accidents in Millcreek, Harborcreek, Fairview, Meadville, and throughout Pennsylvania. Call (814) 833-7100 or fill out our online contact form to schedule a consultation about your case. We have an office conveniently located at 2525 W. 26th St., Erie, PA 16506, as well as offices in Meadville and North East.
The articles on this blog are for informative purposes only and are no substitute for legal advice or an attorney-client relationship. If you are seeking legal advice, please contact our law firm directly.