How to Build a Personal Injury Claim after a Car Accident 
March 3, 2020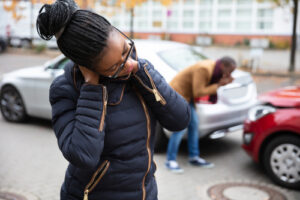 There are millions of car accidents across the U.S. every year, resulting in thousands of dollars in property damage and personal injury costs for each accident. Although the at-fault driver's insurance company typically pays for the damages caused in the accident, they usually don't make full payment of claims without a fight. It is usually up to the injured victim to prove the validity and value of their claim to get compensation from the insurance companies.
Proving a Personal Injury Claim
As an initial matter, you may be able to get compensation for your personal injuries through your own insurance policy's personal injury protection (PIP) coverage, which is a form of no-fault coverage that is paid out no matter who was at fault for the accident. After PIP coverage is exhausted, you will need to prove your personal injury and property damage claim to the at-fault driver's insurance company, but this is not always an easy task.
In order to get an offer of compensation from the at-fault driver's insurance company, you will need to prove that:
The other driver was at fault for the accident
You suffered injuries and damages in the accident
The rough cost of your medical care, lost wages, property damage, pain and suffering, etc.
If the other driver was responsible for the accident, they are legally liable for your damages; if you were responsible for causing the accident, you will need to look to your own insurance company for compensation.
Click the link to learn more about the role of car insurance in a car accident case.
Compensation for Damages
The damages that you could be compensated for in a personal injury claim include:
Medical expenses, including hospital bills, doctor's office visits, surgeries, prescription medication, physical therapy and rehab, and potentially even long-term care
Lost wages
Lost earning capacity
Pain and suffering. Click the link to learn more about defining pain and suffering.
Lost quality of life
Property damage
What to Do after Your Accident
If you've been involved in a motor vehicle accident, the first thing you or someone else should do is call 911, especially if you or someone has been seriously hurt. Even if you don't call 911, you should still have the police come to the scene; don't let the other driver talk you out of calling the police. A police accident report, which will be generated by an officer if there has been injury or property damage, could be important evidence in a personal injury claim.
If you don't seek immediate medical attention at the accident scene, you should still follow up with your medical provider as soon as possible to identify any injuries you may have suffered in the accident. Prompt medical treatment will allow you to persuasively claim that you suffered injuries and that those injuries were caused by your accident.
You should also be sure to collect important evidence from the accident scene, taking photographs or video of the scene, collecting the contact and insurance information for all the drivers involved in the accident, and the names and contact information for any eyewitnesses to the accident.
Finally, you should notify your own insurance company of the accident, even if you do not believe that you share any fault for the accident. Your insurance policy likely requires to you to promptly notify your insurance company in order to access PIP coverage or other benefits available to you.
Contact an Erie Personal Injury Lawyer to Discuss Your Car Accident Case in Pennsylvania
Did you or a loved one sustain serious injuries due to a car accident in Pennsylvania? Don't let the medical bills pile up while you wait for the negligent party or their insurance company to do the right thing. Right now, you need an aggressive personal injury attorney on your side, fighting to get you the compensation you need, want, and deserve. The skilled attorneys at Purchase, George & Murphey, P.C. represent clients injured because of car accidents in Millcreek, Harborcreek, Fairview, Meadville, and throughout Pennsylvania. Call 814-833-7100 or fill out our online contact form to schedule a free consultation about your case. We have an office conveniently located at 2525 W. 26th St., Erie, PA 16506, as well as offices in Meadville and North East.
The articles on this blog are for informative purposes only and are no substitute for legal advice or an attorney-client relationship. If you are seeking legal advice, please contact our law firm directly.