Who is Responsible for an Accident?
February 27, 2019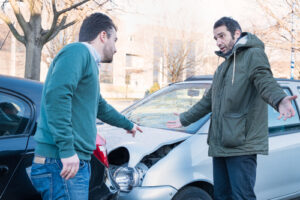 Injuries that result from unintentional accidents are the leading cause of death for children. These accidents include falls, car accidents, swimming incidents and recreational injuries. These unintentional accidents are the 3rd leading cause of death for American adults.
Are these 'accidents' preventable events? Who is financially responsible for an accident when it does occur? Read on to find the answers to these questions and more.
Defining Accidents
The Merriam-Webster dictionary defines an accident as an unfortunate event that results from either ignorance or carelessness. The reliable dictionary also points out how the word stems from the Latin verb cadere, which means "to fall."
This definition has special significance in a court of law. As the definition asserts, an accident cannot occur without either a careless or ignorant act coming first. In the law's eyes, this often means that the person who performed the careless or ignorant act directly caused the accident. When broken down this way, it makes sense that the careless party should pay the losses associated with an accident.
Accidents differ from Acts of God, which are events that could not have been prevented or predicted.
What Are the Elements of a Personal Injury Claim?
The law follows this standard, and the careless party is typically held financially liable for all the losses associated with an accident. If you pursue this financial sum from the carless party, then the courts will expect you to prove:
• The individual had a duty of care towards the injured
• The person breached this duty of care by being careless or reckless
• The breach of duty resulted in an injury
• The injury caused real harm to the victim
If your own carelessness played a role in the accident, then expect that fact to be scrutinized during your lawsuit. It's very possible that your overall compensation amount will be reduced when it's clear that your own actions were reckless.
Statistics indicate that an American citizen will suffer harm from a preventable accident almost every second. If this happens to you, then consider seeking financial relief through a personal injury lawsuit. It is possible to recover from the medical bills, lost wages and other losses you've endured.
Contact an Erie Personal Injury Lawyer to Discuss Your Negligence Case in Pennsylvania
Did you or a loved one sustain serious injuries due to someone's negligence in Pennsylvania? Don't let the medical bills pile up while you wait for the negligent party or their insurance company to do the right thing. Right now, you need an aggressive personal injury attorney on your side, fighting to get you the compensation you need, want, and deserve. The skilled attorneys at Purchase, George and Murphey P.C. represent clients injured because of negligence in Erie, North East, Meadville, and throughout Pennsylvania. Call 814-273-2010 or email us to schedule a free consultation about your case. We have an office conveniently located at 2525 W 26th St., Erie, PA 16506 as well as offices in Meadville and North East.
The articles on this blog are for informative purposes only and are no substitute for legal advice or an attorney-client relationship. If you are seeking legal advice, please contact our law firm directly.