What If My Pain After a Car Accident Was Delayed?
April 8, 2020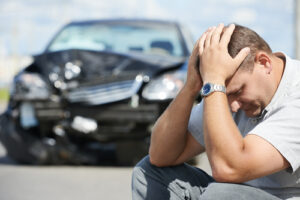 Being involved in a car accident can be overwhelming and scary. In minutes, your daily thoughts are replaced with questions of who will cover your property damages and what steps you should take to file and report the accident. Unless your injuries are severe, it is also possible that you might not even seek medical care.
Related blog: How to Build a Personal Injury Claim after a Car Accident
Common Injuries From a Millcreek Car Accident
Unfortunately, car accidents can lead to all types of injuries. Some of these injuries are severe and require medical care. Others might not show up until later, delaying the entire process. These are a few of the most common injuries from car accidents:
Whiplash
Broken bones
Internal bleeding
Herniated discs
Traumatic head injury
Lacerations and cuts
Leg and arm injury
Deep scrapes and cuts
Psychological pain is also possible. Individuals who are involved in a car accident can be left with vivid flashbacks and a fear of driving, which is often referred to as post-traumatic stress disorder.
The sudden impact of a car accident causes adrenaline to release, which can mask symptoms of an injury. Not only can forgoing medical care be dangerous to your health, but it can also make it difficult to collect any compensation that you deserve later on.
Related blog: Soft Tissues Injuries In Low-Impact Motor Vehicle Accidents: What To Know
Ways to Protect Yourself Following a Car Accident
Even if you do not experience any pain immediately following a car accident, these tips can help you protect yourself:
Schedule a visit with your physician: Even if you feel that a visit to the emergency department is not needed, it is always a good idea to schedule a follow-up visit with your primary physician. Your doctor will evaluate your symptoms and look for any injuries you might have that do not yet show any symptoms.
Keep documents: It can also be helpful to collect documents for any medical visits that you do receive.
Work with a personal injury lawyer: A personal injury lawyer will not only help you understand your legal options, but can also help you determine the value of your case. Your lawyer might recommend that you wait to file until you have reached a maximum medical improvement to ensure that you are able to collect enough to deal with your injuries.
Wait to sign a release of liability: A release of liability is used to complete an auto accident case. Signing this release will remove any liabilities and make you ineligible to file a claim later on. It is best to wait to sign the release until you have already visited a doctor and discussed your case with a personal injury lawyer.
Now What?
You've already left the scene of the accident and now you are dealing with pain from a delayed injury. While it can be more difficult to determine that the car accident was the cause of the pain, it is possible in some cases. As long as you didn't sign a release of liability, then you might still have claim options available. It is best to discuss your case with a personal injury lawyer as soon as possible.
Contact a Millcreek Personal Injury Lawyer to Discuss Your Car Accident Case in Pennsylvania
Did you or a loved one sustain serious injuries due to a car accident in Pennsylvania? Don't let the medical bills pile up while you wait for the negligent party or their insurance company to do the right thing. Right now, you need an aggressive personal injury attorney on your side, fighting to get you the compensation you need, want, and deserve. The skilled attorneys at Purchase, George & Murphey, P.C. represent clients injured because of a car accident in Millcreek, Fairview, Meadville, Erie, and throughout Pennsylvania. Call (814) 833-7100 or fill out our online contact form to schedule a free consultation about your case. We have an office conveniently located at 2525 W 26th St, Erie, PA 16506, as well as offices in Meadville and North East.
The articles on this blog are for informative purposes only and are no substitute for legal advice or an attorney-client relationship. If you are seeking legal advice, please contact our law firm directly.