How to Win A Slip and Fall Accident Claim on Wet Floor (Ultimate Guide)
March 23, 2021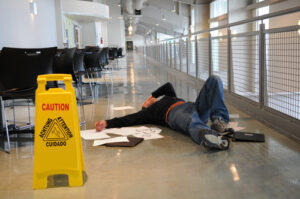 You never expect to be injured when visiting a retail location. But, even a minor slip and fall can lead to painful injuries and expensive medical bills. Fortunately, if you are injured severely in a slip and fall on a wet floor, you may be eligible to make a claim against the responsible party. In this blog, we will provide helpful tips on how to win a slip and fall accident on wet floor claim in Pennsylvania.
Causes of Slip and Fall Accidents
There are many things that can lead to a slip and fall accident. A few of the most common causes include the following:
Wet floors from mopping
Wet floor from rain or snow
Uneven floorboards
Neglect from employees or property managers
Other factors, like employees wearing the wrong shoes or lack of safety training, may also lead to slip and falls. Evaluating the details that led to the slip and fall is an important part of determining whether you have a case and are eligible to file a claim.
When to Hire a Personal Injury Lawyer
Depending on the details of the accident, you may or may not need a personal injury lawyer to represent your case. However, a lawyer can bring many benefits to your claim, including:
Knowledge of Pennsylvania laws: You need a lawyer that is familiar with Pennsylvania's laws on slip and falls, including things like the two-year statute of limitations.
Manage communications: A slip and fall accident can lead to time spent in the hospital and recovering. You shouldn't have to also deal with frequent communications from insurance companies or the other lawyer while you focus on your recovery. Your lawyer will manage all communications on your behalf.
Build your case: In order to collect compensation for your damages, we will need to build your case. This requires the collection of certain evidence, like medical records and photographs from the accident. We will help you collect this information.
Calculate the value of your case: Slip and fall accidents can be costly. In addition to the medical bills, you may also have to take an extended time off of work. We also consider things like pain and suffering and any diminished earning capacity when calculating the overall value of your case.
In addition to these factors, a personal injury lawyer will also act as your guide throughout the process. Navigating a legal claim is not always easy, especially if you have not gone through it before.
Read more: Maximizing Compensation After a Wet Floor Slip and Fall
Schedule a Consultation With a Personal Injury Lawyer Today to Discuss Your Options
If you were injured in a slip and fall accident, it is important to evaluate your options before the state's timeline runs out. Many personal injury cases are settled outside of court. While other lawyers may tempt you to take the first settlement offer that you receive, we encourage our client's factor in the many ways in which the slip and fall accident has, and will, impact their life.
If someone else is responsible for your injury, then it is only right that they also cover your total amount of damages.
Contact an Erie Personal Injury Lawyer to Discuss Your Slip and Fall Accident Case in Pennsylvania
Did you or a loved one sustain serious injuries due to a slip and fall accident in Pennsylvania? Don't let the medical bills pile up while you wait for the negligent party or their insurance company to do the right thing. Right now, you need an aggressive personal injury attorney on your side, fighting to get you the compensation you need, want, and deserve. The skilled attorneys at Purchase, George & Murphey, P.C. represent clients who have been injured as a result of a slip and fall accident in Erie, Millcreek, Harborcreek, Fairview, and throughout Pennsylvania. Call (814) 833-7100 or fill out our online contact form to schedule a consultation about your case. We have an office conveniently located at 2525 W 26th St. Erie, PA 16506, as well as offices in Meadville and North East, PA.
The articles on this blog are for informative purposes only and are no substitute for legal advice or an attorney-client relationship. If you are seeking legal advice, please contact our law firm directly.