Maximizing Compensation After a Wet Floor Slip and Fall
February 18, 2020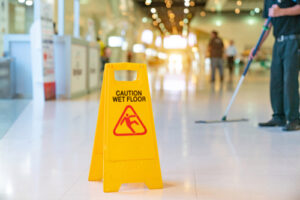 Wet floor slip and fall accidents can lead to significant injuries and medical bills. If you fell on someone else's property, then it's important to start researching the law. Depending on your situation, you may be able to seek compensation for your health care bills and other losses.
What You Need to Know About Wet Floor Sign Laws
Premises liability laws make it a property owner's responsibility to keep their floors safe. If a floor gets wet or presents some other hazard, then it's the property owner's legal obligation to act. If a property owner knew about a wet floor and failed to put up a sign or prevent your injury, then they'll be held financially liable for your losses.
More Evidence Means More Compensation
In general, your overall compensation award will match the strength of the evidence you provide. If you can prove your case with solid evidence, then the responsible party is more likely to agree to pay you what your claim is worth without ever having to go to court.
In order to maximize your compensation award after a slip and fall accident on a wet floor, you need to prove everything that happened. Reach out to the business as soon as possible to ask if a surveillance video camera captured the incident. Back-up the diagnosis of your injury with medical paperwork and bills. Prove that you've missed work by asking your employer to make a statement for the court.
A failure to back up your claims with evidence could mean that you lose out on the compensation you deserve. If you need assistance getting proof, then reach out to an attorney who can help you navigate the process.
Having a Lawyer Strengthens Your Negotiating Power
There's another advantage to having a legal representative during your personal injury lawsuit. An experienced attorney gives you an edge when you're negotiating with the responsible party. Without proper representation, the liable party may attempt to challenge your claim. They may try to undercut your losses and attempt to get you to agree to a reduced settlement amount.
If the other party knows you have a lawyer, then they're more likely to negotiate reasonably. They may not want to take your claim to the courtroom because they know your attorney will be willing to advocate and fight for you.
Contact an Erie Personal Injury Lawyer to Discuss Your Wet Floor Slip and Fall Accident Case in Pennsylvania
Did you or a loved one sustain serious injuries due to a wet floor slip and fall accident in Pennsylvania? Don't let the medical bills pile up while you wait for the negligent party or their insurance company to do the right thing. Right now, you need an aggressive personal injury attorney on your side, fighting to get you the compensation you need, want, and deserve. The skilled attorneys at Purchase, George & Murphey represent clients injured because of wet floor slip and fall accidents in Erie, Meadville, Edinboro, and throughout Pennsylvania. Call 814-273-2010 or fill out our online contact form to schedule a consultation about your case. We have an office conveniently located at 2525 W 26th St., Erie, PA 16506 as well as offices in Meadville and North East.
The articles on this blog are for informative purposes only and are no substitute for legal advice or an attorney-client relationship. If you are seeking legal advice, please contact our law firm directly.