Pedestrian Accidents Overview
April 12, 2020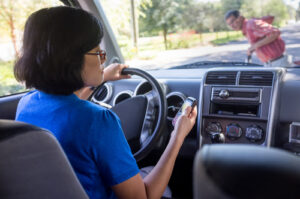 Pedestrian accidents are all too common on Pennsylvania's roads. In fact, according to a recent study, researchers found an increase of 41% in pedestrian fatalities in Pennsylvania. This translates to approximately 6,200 pedestrians each year. This guide will cover what a pedestrian accident is, as well as the most common types of pedestrian accidents.
What is a Pedestrian Accident?
A pedestrian accident is an accident that involves at least one pedestrian. An accident with a motor vehicle and a pedestrian is the most common type of pedestrian accident. The injuries from a pedestrian accident are often much worse than an accident with two vehicles. This is because pedestrians do not have the barrier of their vehicle or the protection of safety features.
Related blog: Injured In Or By A Rideshare Vehicle: Do I Have A Personal Injury Case?
Types of Pedestrian Accidents
Unfortunately, there are many ways in which a pedestrian can be injured. These are a few of the most common types of pedestrian accidents that contribute to the increase in accidents in Pennsylvania:
Distracted driving
Poor weather
Failing to follow local city laws
Speeding
Driving under the influence
Left-hand turns
Improper lane usage
Unmarked roads
Distracted driving is one of the main contributors to the increase in pedestrian accidents in the state. With the majority of drivers having a cell phone and vehicles equipped with more advanced technology, drivers have more distractions than ever before, which can lead to more pedestrian accidents.
Determining Liability in a Pedestrian Accident Case
In most cases, liability falls on the automotive driver. That is because, drivers are expected to be aware of their surroundings, including drivers and passengers, at all times. However, pedestrians must also offer the same duty of care to the drivers on the road.
Related blog: Determining Fault in a Personal Injury Case
Driver Expectations
Drivers are expected to follow all road laws and rules and to be aware of other drivers and passengers on the road. They are also expected to follow signs, which warn drivers of high passenger-occupied areas.
Pedestrian Expectations
Pedestrians are expected to also be aware of their surroundings. This means following pedestrian signs and waiting until it is safe to walk across an intersection. In some cases, it is possible for the pedestrian to be partially at fault. For example, if the pedestrian runs out in front of a vehicle or ignores the walk signal at an intersection, they could be partially liable.
Important Steps to Take Following a Pedestrian Accident
Whether you are the driver or the pedestrian, there are a few important steps that you will want to take if you're involved in a pedestrian accident:
Report the accident immediately: It is important to report the accident as soon as possible. Evaluate the condition of everyone involved and let the dispatcher know if emergency medical help is needed. If the accident is in an unsafe location and it is safe to do so, move everyone to a safer location.
Take notice of your surroundings: The scene of the accident will become an important part of building your case. If possible, capture any images from the scene of the accident and collect the contact information of any witnesses who might be able to testify about what caused the accident.
Notify your insurance company: It can be useful to notify your insurance company that you have been in an accident. However, be sure to provide them with details and avoid placing or accepting blame for the accident.
Reach out to a personal injury lawyer: A personal injury lawyer will guide you on what steps to take to protect and build your case.
Pedestrian accidents will often lead to severe injuries that can affect your life in more ways than one. Discuss your case with a personal injury lawyer to evaluate your legal options.
Contact a Fairview Personal Injury Lawyer to Discuss Your Pedestrian Accident Case in Pennsylvania
Did you or a loved one sustain serious injuries due to a pedestrian accident in the state of Pennsylvania? Don't let the medical bills pile up while you wait for the negligent party or their insurance company to do the right thing. Right now, you need an aggressive personal injury attorney on your side, fighting to get you the compensation you need, want, and deserve. The skilled attorneys at Purchase, George & Murphey, P.C. represent clients injured because of a pedestrian accident in Erie, Millcreek, Harborcreek, Fairview, and throughout Pennsylvania. Call (814) 833-7100 or fill out our online contact form to schedule a consultation about your case. We have an office conveniently located at 2525 W 26th St., Erie, PA 16506, as well as offices in Meadville and North East.
The articles on this blog are for informative purposes only and are no substitute for legal advice or an attorney-client relationship. If you are seeking legal advice, please contact our law firm directly.