Mistakes to Avoid After Getting Into a Car Accident
March 9, 2018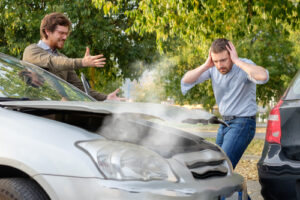 Buckle up. Check your mirrors. Drive with caution. There are many things drivers do in order to remain safe when on the road, especially in Pennsylvania where so many factors can play into a simple drive to go buy groceries.
But nowadays, cars come equipped with new technology to help avoid accidents like indicators in side-view mirrors and backup cameras/alarms to alert drivers of things that might be in the way.
Purchase, George & Murphey Represents Those Injured in Pennsylvania Car Accidents
Unfortunately, accidents still happen today and at an increasing rate. According to a report that came out in February of this year by the National Safety Council, a nonprofit organization that works with federal auto-safety regulators, an estimated 40,200 people died in accidents involving motor vehicles in 2016. By those estimates, that is a six percent rise from 2015 and the first time since 2007 that more than 40,000 people have died in motor vehicle accidents in a single year.
Those numbers are a bit scary but they speak volumes about the amount and frequency with which automobile accidents occur. An accident itself can be overwhelming for all involved so it is important as a motorist to know what to do following an accident, which means recognizing and avoiding common mistakes people make after getting into a car accident.
The Investigation of Your Erie, PA Car Crash Is Important
Here are a few mistakes you should avoid if you get into a car accident:
Admitting fault

– it is important to avoid saying anything that indicates you acknowledge you could be at fault during an accident. There are plenty of other variables that play into an accident and admitting fault could hinder or hurt your case later down the road.

Not taking pictures

– pictures of the incident can prove valuable when filing a claim with your claims adjuster to accurately assess the damage. Not taking pictures means you do not have evidence of damages that occurred as a result of the collision.

Failing to contact police

– a police report can prove valuable as another piece of proof of the accident. Not contacting the police can also hurt you when it comes to working with your insurance company on the matter.

Dismissing medical assistance

– with adrenaline pumping and emotions flooding, it is easy to disregard any injuries you may have sustained during an automobile accident. You should get checked out as soon as possible following an accident instead of waiting until something begins to hurt, which could be weeks after the incident.

Forgetting to gather proper information – it is essential to gather all the necessary information from all drivers involved in an accident, as they are needed to fill out insurance claim forms. Also get the badge number of the responding officer as well as any information from witnesses at the scene.
Waiting too long to notify your insurance company – some policies require accidents to be reported/filed within a certain timeframe following the accident in order to be valid. Waiting or failing to notify your insurance company can result in ineligibility when it comes to paying for repairs and injuries.
Schedule a Free Consultation with Aggressive Personal Injury Lawyers Who Will Help You Get Compensated for a Car Accident in Erie, PA
The mistakes listed are just some of the ways motorists can hurt themselves following a motor vehicle accident. Another costly mistake could be failing to reach out to a qualified personal injury lawyer to help you get the compensation you deserve, especially when dealing with claims adjusters and insurance companies. Contact the Law Offices of Purchase, George & Murphey, P.C. to make sure you are taking the necessary and correct steps following your car accident.
The articles on this blog are for informative purposes only and are no substitute for legal advice or an attorney/client relationship. If you are seeking legal advice, please contact our law firm directly.