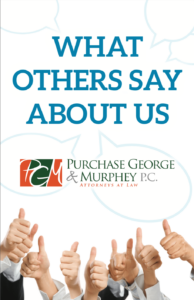 Over the years, we've had many happy clients who've left us positive feedback, which we've compiled into this informative PDF. Here are a few excerpts from the book, and be sure to fill out the form below to download the whole document, which contains over 50 pages of testimonials!
Truly the Best
"Eric and I worked in the same law firm for several years before he opened his own…firm. Eric is smart, intuitive and demonstrates excellent judgment in analyzing cases and determining the best course of action for his clients."
Attorney Susan F. Reiter – Motor Vehicle Accident
You Can Trust Tim George to do Everything in His Power to Help You
I found myself in a legal situation and, through the years, heard good things about Tim George. I called his office and scheduled a consultation. His staff was polite and professional.When I met with Tim, I knew he was the real deal. He answered all of my questions, offered exceptional advice, and treated me with respect. Tim represented me at my hearing and got all the charges dismissed! He even took care of expunging the charges from my record! I highly recommend Tim George!
J.T. (client), February 25, 2014
Excellent Work
Mr. George was very helpful in my case, getting me a favorable result. I would recommend him for cases regarding State Police interactions and drive cameras. He is very knowledgeable and he will help you resolve your case.