What to Do after a Motorcycle Accident
May 5, 2021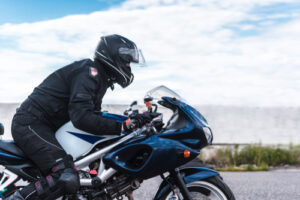 Although riding a motorcycle is a fun and enjoyable experience, it also carries the risk of serious injuries or even death in the event of an accident. Unlike passengers of vehicles, motorcycle riders have nothing to protect their bodies in the event of a collision.
After you've been involved in an accident, it can be difficult to think clearly about the steps you need to take after the accident to protect your legal rights and interests and ensure that you can pursue financial compensation for your injuries and damages. Here are steps you (or a trusted family member or friend acting on your behalf) should take after your motorcycle accident.
Get Checked Out by a Doctor
If you've been hit on your motorcycle, someone will likely call emergency medical services who will transport you to the emergency room. Even if you can walk away from the accident scene, you should still get checked out by your primary physician or another doctor as soon as possible after your accident. In many cases, the shock and excitement of your accident may cause you not to feel pain for hours or even days after your accident.
In addition, symptoms of some injuries such as traumatic brain injuries may not display themselves for days or even weeks following your accident. In addition, you may have suffered other non-visible injuries, such as a broken rib or internal bleeding. As a result, getting checked out by a doctor as soon as possible after your accident can end up saving your life.
Promptly identifying and diagnosing your injuries will also allow you to have a strong legal claim to show that those injuries were caused by your motorcycle accident, ensuring that you are fully compensated for your injuries.
Collect Contact and Insurance Information
If law enforcement is called to the scene of your accident, they will take down contact information for the motorists involved as well as for any bystanders who witnessed the accident. However, you should at a minimum be sure you also get the names, contact information, and insurance information for any motorists involved in the accident. Be sure to get this information from the other drivers involved as soon as possible; if they believed they caused the accident, or if they have a poor driving record, or if they hear that police are coming to the scene, they may choose to leave.
When you talk to the other motorists involved in the accident, avoid talking about the facts of the accident, offering an apology, or saying anything that may later be used against you if you decide to bring a personal injury claim.
Document the Accident Scene
If possible, try to take photos or video of the accident scene, as they can help the insurance company and accident reconstruction experts determine how the accident occurred and who may have been at fault. Try to take photos of your motorcycle and damage to the other vehicles involved in the accident, the license plates of the vehicles, the traffic controls at the scene, and the weather, traffic, and road conditions at the time of the accident.
Obtain a Copy of the Police Accident Report
If police responded to the scene of the accident, they will prepare a police accident report; you can request a copy of this report from the police department. There is usually a nominal fee to request a copy, but it is worth it as the police report often serves as critical evidence in a later legal claim.
Notify the Insurance Companies and File a Claim
Finally, as soon as you are able to do so, you should notify your insurance company of your accident, even if you were not at fault for the collision. If you have personal injury protection coverage or uninsured/underinsured motorist coverage under your motorcycle insurance policy, you may be required by the terms of your policy to provide your insurer with notice within a certain time after your accident in order to be eligible for those coverages.
If you believe another motorist was at fault for your accident, you or your attorney can file a formal claim for compensation under the bodily injury coverage of that motorist's insurance policy.
Contact an Erie Personal Injury Lawyer to Discuss Your Motorcycle Accident Case in Pennsylvania
Did you or a loved one sustain serious injuries due to a motorcycle accident in Pennsylvania? Don't let the medical bills pile up while you wait for the negligent party or their insurance company to do the right thing. Right now, you need an aggressive personal injury attorney on your side, fighting to get you the compensation you need, want, and deserve. The skilled attorneys at Purchase, George & Murphey, P.C. represent clients injured because of motorcycle accidents in Millcreek, Harborcreek, Fairview, Meadville, and throughout Pennsylvania. Call (814) 833-7100 or fill out our online contact form to schedule a  consultation about your case. We have an office conveniently located at 2525 W. 26th St., Erie, PA 16506, as well as offices in Meadville and North East.
The articles on this blog are for informative purposes only and are no substitute for legal advice or an attorney-client relationship. If you are seeking legal advice, please contact our law firm directly.