What Is Considered a Personal Injury?
May 11, 2020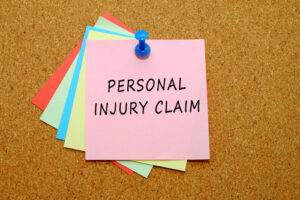 We've all endured our fair share of injuries. Whether this was the result of playing sports, tripping over something in our way or bumping into someone at the supermarket, it's safe to say that these little accidents didn't interrupt our daily lives or our ability to accomplish certain tasks. The same cannot be said for a personal injury.
A personal injury is something that is sustained as a result of someone else's negligent actions and/or behavior. As such, dealing with the complexities of a personal injury case requires the knowledge and experience of a personal injury attorney. Below, we will discuss what a personal injury is, how they are commonly sustained and what a personal injury attorney will do to help you recover the maximum amount of compensation.
What is a Personal Injury?
By definition, a personal injury is any type of accident that has legal fault. As such, there are many types of personal injury cases our firm has handled. Most commonly, these have included:
Construction accidents
And more
Any of the above accidents can be the direct result of negligent behavior. A common example of negligence may be if a driver is using their cell phone. Distracted driving has boomed over the last few years and as a result, the state of Pennsylvania has made using a cell phone while behind the wheel a traffic violation. Despite this, distracted driving accidents are inherently common. If you are involved in an accident with a distracted driver, you might think you have a solid case, however, that is not always the case. While the driver should not have been operating their vehicle while using their cell phone, it must be proved that your injuries were the direct result of that driver's actions. This brings us to the next portion of important information.
How is Fault Determined in a Personal Injury Case?
In a personal injury case, the following elements must be proven:
There was a duty of care owed
There was a breach in said duty
That breach resulted in someone's injuries
There were damages
Proving this requires the assistance of a personal injury attorney who will investigate the details of your case. Your lawyer will need to review your medical records and/or bills, photographic evidence of the accident scene, pay stubs and any eyewitness accounts. These records will not only be useful in proving negligence, but will help your attorney determine how much compensation you should be awarded now and in the future to cover the costs of ongoing medical bills and/or therapeutic treatments.
Contact a Fairview Personal Injury Lawyer to Discuss Your Auto Accident Case in Pennsylvania
Did you or a loved one sustain serious injuries due to a car accident in the state of Pennsylvania? Don't let the medical bills pile up while you wait for the negligent party or their insurance company to do the right thing. Right now, you need an aggressive personal injury attorney on your side, fighting to get you the compensation you need, want, and deserve. The skilled attorneys at Purchase, George & Murphey, P.C. represent clients injured because of a car accident in Erie, Millcreek, Fairview, Harborcreek, and throughout Pennsylvania. Call (814) 273-2010 or fill out our online contact form to schedule a free consultation about your case. We have an office conveniently located at 2525 W 26th St., Erie, PA 16056, as well as offices in Meadville and North East.
The articles on this blog are for informative purposes only and are no substitute for legal advice or an attorney-client relationship. If you are seeking legal advice, please contact our law firm directly.