What Happens If Your Lyft Gets in an Accident?
June 11, 2020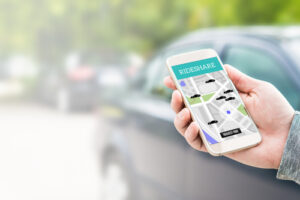 Many of us use Lyft rideshare vehicles to have a safe form of transportation. But what happens when your Lyft vehicle gets into an accident. If you are a passenger in a Lyft vehicle involved in a crash, you need to know what to do following the accident to help protect your rights. You should also understand what your options are for seeking compensation for any injuries and damages you suffer in the crash.
What to Do Following Your Lyft Accident
Although Lyft's policies about what passengers should do in the event of an accident aren't very clear, Lyft does instruct its drivers to always call 911 following an accident and to check on their passengers and ensure that anyone who requires medical attention is seen by emergency medical services. Once Lyft is notified of an accident by its driver, the company has a "Trust and Safety Team" that will contact any passengers in the vehicle at the time of the accident to provide them with insurance information and any other resources the rider may need following the accident.
Lyft also allows riders to contact the company in the event of an accident; however, the company's policies are unclear about what happens after a passenger contacts Lyft about an accident.
Instead, you should take it upon yourself to take the following steps to help protect your rights and options for seeking compensation for your injuries and other damages suffered in the accident:
Get as much information as possible about the crash, including your Lyft driver's name and contact information, your driver's personal insurance information and any information about Lyft's insurance policy, and the contact and insurance information of any other drivers involved in the accident.
If possible, try to document the accident scene by taking photos or video of the damage to the vehicles involved, the traffic controls at the location of the accident, and the weather, lighting, traffic, and road conditions at the time of the crash. You should also take photos of any visible injuries you suffered.
Be sure to follow up with your doctor or other health care provider to have an examination to identify all the injuries you may have suffered in the accident.
Talk to an attorney about your crash and discuss your rights and options for pursuing a claim for compensation.
Seeking Compensation Following Your Accident
If you were a passenger in a Lyft vehicle involved in an accident, you may be entitled to seek compensation for your personal injuries from the insurance policy Lyft is required to carry. Lyft's insurance plan provides up to $1 million in coverage per accident that occurs when a Lyft vehicle is transporting a passenger. This policy is the primary policy in the event of an accident, although you may also be able to pursue compensation from the personal auto insurance policies of the at-fault drivers involved in the accident. Finally, depending on the circumstances of the accident and the terms of your auto insurance policy, you may be eligible to file a claim under the personal injury protection coverage in your insurance policy. An experienced attorney can review your case and help you understand what coverages may be available to you.
Contact a Erie Personal Injury Lawyer to Discuss Your Lyft Accident Case in Pennsylvania
Did you or a loved one sustain serious injuries due to a Lyft accident in Pennsylvania? Don't let the medical bills pile up while you wait for the negligent party or their insurance company to do the right thing. Right now, you need an aggressive personal injury attorney on your side, fighting to get you the compensation you need, want, and deserve. The skilled attorneys at Purchase, George & Murphey, P.C. represent clients injured because of Lyft accidents in Erie, Millcreek, Harborcreek, Fairview, and throughout Pennsylvania. Call (814) 833-7100 or fill out our online contact form to schedule a consultation about your case. We have an office conveniently located at 2525 W. 26th St., Erie, PA 16506, as well as offices in Meadville and North East.
The articles on this blog are for informative purposes only and are no substitute for legal advice or an attorney-client relationship. If you are seeking legal advice, please contact our law firm directly.