Here's What Happens After a DUI Charge on St. Patrick's Day
March 16, 2021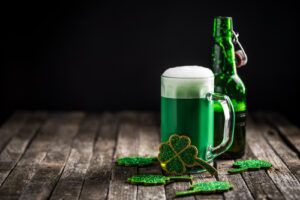 Are you the type of person who looks forward to special green drinks and delicious bar foods on St. Patrick's Day? St. Patrick's Day marks the beginning of good weather and celebrations with friends for many. But, before you head out to the local pub, do you know what a drunk driving charge in Pennsylvania means? Do you know how long it could stay on your record? Considering these things ahead of time can help you make the right decisions, while still enjoying a safe holiday. Continue reading to find out what happens after a DUI in Pennsylvania and why hiring a skilled defense attorney is in your favor.
DUI Laws in Pennsylvania
The state of Pennsylvania lowered its blood alcohol content (BAC) limits to .08% in 2003. In addition to the lower BAC, they also adjusted legal consequences for a DUI to be based on the number of offenses and the level of BAC at the time of the arrest.
They categorize BACs into:
General impairment: A BAC of .08-.099%.
High BAC: A BAC of .10- .159%.
Highest BAC: A BAC of .16 and higher.
Drivers who have a BAC of 0.99% and lower will be met with the lowest level of consequences, which alone, includes a temporarily suspended driver's license and up to six months of probation. Required attendance to an alcohol highway safety school and alcohol treatment may also be required.
If you are arrested with a DUI and you have prior offenses, you will be met with even more severe consequences, including expensive fines and a license suspension. Some drivers may have to have an ignition interlock system installed in their vehicles. Finally, prison time may be a requirement, depending on your charges.
If you drive for a living, such as a commercial truck driver or rideshare driver, you may lose your driving privileges. Having a DUI on your driving record can also make it difficult to find further driving employment.
Read more: What Happens If You Refuse a Breathalyzer Test in Pennsylvania?
How to Stay Safe This St. Patrick's Day
The consequences of a DUI for one day of celebrations are not worth it. Before you go out to celebrate, consider making other plans. Schedule to have a friend or family member pick you and your friends up at the bar, or take advantage of rideshare apps like Uber or Lyft.
Some people may decide to stay home to celebrate. Keep in mind, even if you're not drinking and driving this St. Patrick's Day, the number of drunk drivers on the road increases on this day. Additionally, there will be an increased number of police officers on the road, which could put you at a higher risk of speeding or other traffic tickets.
How to Handle a DUI This St. Patrick's Day
If you are pulled over and arrested this St. Patrick's Day, you might consider talking with a DUI defense lawyer. Navigating DUI charges can be overwhelming, especially as you consider the implications to your future. Let an experienced DUI lawyer walk you through the process, while also building a defense against your DUI charges in Pennsylvania.
Read more: Is a DUI a Felony in Pennsylvania?
Contact an Experienced Meadville Criminal Defense Lawyer About Your St. Patrick's Day DUI Charges in Pennsylvania
Were you arrested or charged with DUI in Pennsylvania? The consequences of a conviction could be severe, leaving you with a permanent criminal record and possibly even sending you to jail. That is why you need to speak with a qualified criminal defense attorney as soon as possible about your case. The attorneys at Purchase, George & Murphey, P.C. have successfully represented clients charged with DUI in Meadville, Millcreek, Fairview, Erie, and throughout Pennsylvania. Call (814) 833-7100 or fill out the online contact form to schedule a consultation with a member of our legal team. We have an office conveniently located at 2525 W 26th St, Erie, PA 16506, as well as offices located in Meadville and North East, PA.
The articles on this blog are for informative purposes only and are no substitute for legal advice or an attorney-client relationship. If you are seeking legal advice, please contact our law firm directly.
Disorderly conduct consists of any improper behavior such as fighting, threats of violence, or creating a dangerous atmosphere.