Traumatic Brain Injury Caused by Slip and Fall
March 10, 2020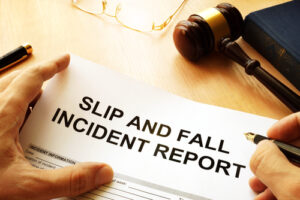 Although many people may not realize that traumatic brain injuries can occur in slip and fall accidents, the reality is that TBIs are among the most serious potential injuries that can be suffered in a slip and fall accident.
Effects of Traumatic Brain Injuries
Traumatic brain injuries can lead to reduced cognitive function, confusion, migraines, and other serious conditions that can last for weeks, months, or even the rest of your life. When you or a loved one suffer a TBI in a slip and fall accident, you may be entitled to compensation for the damages caused by your TBI, including medical expenses, lost wages and earning capacity, pain and suffering, and lost quality of life.
Establishing a Dangerous Condition
In order to establish your right to compensation for a TBI suffered in a slip and fall accident, you will need to first establish that there was a dangerous condition that caused your slip and fall accident. Some common dangerous conditions that cause slip and fall accidents include:
Snow or ice
Water
Oil or grease
Uneven flooring surfaces
Loose floorboards or tiles
Loose or torn carpeting or rugs
Abrupt transitions between flooring surfaces
Power cords
Trash, debris, or clutter
Inadequate lighting
In addition, the footwear that you were wearing during the accident is important to consider as well.
If you suffer a slip and fall accident, it may be critical to your case that you photograph or video the accident scene, if possible, recording whatever it was that you slipped on, whether there were any warning signs, and the lighting and (if relevant) weather conditions at the time of the accident.
Owner/Occupant Liability
Once it is established that a slip and fall accident occurred due to some dangerous condition on property, the next step is to establish the liability of the owner or occupant of the property for the dangerous condition and for the accident victim's injuries. As a general matter, in order to establish the legal liability of the owner or occupant of the property, an injured victim of a slip and fall accident must prove that the property owner or occupant:
Caused the dangerous condition that led to the slip and fall accident, or
Knew of the dangerous condition that led to the slip and fall accident, or
Would have known of the dangerous condition had the owner or occupant exercised reasonable diligence to discover the dangerous condition
In addition, it is often necessary to show that, when the property owner or occupant knew of the dangerous condition, the owner or occupant had reasonable opportunity to remedy the condition. For example, if a restaurant patron spills a drink, the restaurant owner likely would not be held liable for someone who slips on the drink 30 seconds later before the restaurant staff have an opportunity to clean up the spill.
Finally, an injured slip and fall accident victim must establish that the condition presented a foreseeable and unreasonable risk for injury that the slip and fall victim would not have reasonably anticipated.
Click here to learn more about the necessary elements to prove in a slip and fall case.
Contact an Erie Personal Injury Lawyer to Discuss Your Slip and Fall Case in Pennsylvania
Did you or a loved one sustain serious injuries due to a slip and fall in Pennsylvania? Don't let the medical bills pile up while you wait for the negligent party or their insurance company to do the right thing. Right now, you need an aggressive personal injury attorney on your side, fighting to get you the compensation you need, want, and deserve. The skilled attorneys at Purchase, George & Murphey, P.C. represent clients injured because of slip and falls in Millcreek, Harborcreek, Fairview, Meadville, and throughout Pennsylvania. Call 814-833-7100 or fill out our online contact form to schedule a consultation about your case. We have an office conveniently located at 2525 W. 26th St., Erie, PA 16506, as well as offices in Meadville and North East.
The articles on this blog are for informative purposes only and are no substitute for legal advice or an attorney-client relationship. If you are seeking legal advice, please contact our law firm directly.