Top 4 Causes of Motorcycle Accidents
February 2, 2020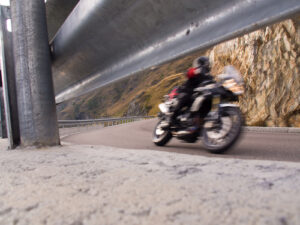 It feels so freeing to be cruising down the road on your motorcycle, but it's also inherently more dangerous than being in a car. Not only is a motorcycle smaller, but you're also not protected by a frame and doors like you would be in a car.
For that reason, it's important to remain vigilant about the top causes of motorcycle accidents. Raising awareness will help you avoid getting into a crash. Learn the top four causes of motorcycle accidents below.
1. Car Fails to Notice Motorcycle
The number one cause of motorcycle-related crashes involving another car is poor visibility. If you're an avid rider, then you already know how often vehicles fail to give a biker enough space. Because bikes are smaller, cars tend to crowd them.
Despite a bike's small size, it's the law for motorists to give them the space they deserve on the road. Even if the driver argues that they didn't detect you or see you, they're still at fault if they cause an accident.
2. Cars Making a Left-Hand Turn
The second leading cause of motorcycle accidents is when a car makes a left-hand turn. Motorcycles may be trying to pass the car or go straight through an intersection. The car then strikes the motorcycle when they try to take a left-hand turn.
This failure to yield to traffic is almost always found to be the vehicleFailure 's fault. Cars must give motorcyclists their rightful space on the road.
3. Unsafe Lane Changes
Unsafe lane changes are another common cause of motorcycle versus car accidents. These types of accidents are common because bikers can easily fit into a car's blind spot. It's still the driver's responsibility to ensure the lane is free of traffic before moving over, though.
4. Car Doors
A surprising number of motorists are injured each year when they run straight into a car door. Most often, the motorist unexpectedly opens their car door into the lane of traffic and the biker doesn't have enough time to respond. Ultimately, the motorcycle smashes into the open car door. This car driver is usually found to be at-fault in these circumstances. It's crucial that you take extra care when you're riding your motorcycle in an area where cars often park on the side of the road.
Contact an Erie Personal Injury Lawyer to Discuss Your Motorcycle Accident Case in Pennsylvania
Did you or a loved one sustain serious injuries due to a motorcycle accident in Pennsylvania? Don't let the medical bills pile up while you wait for the negligent party or their insurance company to do the right thing. Right now, you need an aggressive personal injury attorney on your side, fighting to get you the compensation you need, want, and deserve. The skilled attorneys at Purchase, George & Murphey represent clients injured because of motorcycle accidents in Erie, Meadville, Edinboro, and throughout Pennsylvania. Call 814-273-2010 or fill out our online contact form to schedule a consultation about your case. We have an office conveniently located at 2525 W 26th St., Erie, PA 16506 as well as offices in Meadville and North East.
The articles on this blog are for informative purposes only and are no substitute for legal advice or an attorney-client relationship. If you are seeking legal advice, please contact our law firm directly.