Tips For Sharing The Road With Motorcycles
March 2, 2018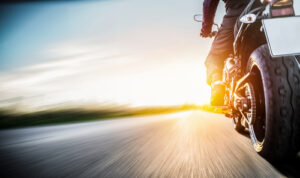 Most of the time you hear them before you see them. Most of the time it's an increasingly loud rumble — known as rolling thunder — and that's when you know there is a motorcycle or group of motorcycles on the road with you.
As a motorcyclist, there is nothing better than taking a road trip on the iron horse. You can feel the wind, hear all the sounds and see everything firsthand without a barrier.
Experienced Motorcycle Accident Lawyer In Erie, PA Explains How Drivers Can Help Avoid Motorcycle Accidents
As a motorist on the road in a car or truck, being on the road with a motorcycle can be a scary or even nerve-wracking experience. Those qualities of a motorcycle that make it such an enjoyable feeling for riders, also make it a dangerous companion on the road.
Motorcycles do not come equipped with a seatbelt or airbags to protect the rider in the event of a crash so it is important for you, the driver of a vehicle, to be conscious, courteous and helpful on the road so you and the motorcycle rider can both enjoy the ride without the worry of a collision.
Here are some important tips for safely sharing the road with motorcycles:
Give motorcycles extra following and passing distance – motorcycles have the capability to stop quicker than a car or truck. Motorcycle riders also come to a stop by rolling off the throttle, which does not always mean they are using the brake or their brake lights will be on when they are coming to a stop.
Utilize your own signals and mirrors – because of their smaller size, motorcycles often fall in motorists' blind spots. When on the road with a motorcycle, check and double check your mirrors and blind spots and always signal turns. Making motorcyclists aware of what you are going to do makes it easier for them to adjust accordingly.
Don't crowd their lane – even though a motorcycle is smaller than a car or truck, it is still warranted the full lane when on the road. Do not attempt to pass a motorcycle while in the same lane.
Drive cautiously – when following a motorcycle it is important to pay careful attention. Give a rider a few extra seconds to execute a turn or stop. Be extra careful at intersections as that is where most motorcycle accidents tend to take place.
Be wary of weather – inclement weather can be troublesome as a driver and even more so for a motorcycle rider. Sometimes, motorcycles get caught out in the rain or snow and the inclement weather affects a motorcycle more than any automobile. Windy weather conditions can also make it more difficult for a rider to control the motorcycle. Be cautious of inclement weather and lack of visibility it creates, especially with motorcycles on the road.
Contact Our Erie, Pennsylvania Law Firm After a Motorcycle Crash
Being a motorcycle conscious driver can make all the difference between you and a rider respectively arriving at the desired location in a timely and safe manner. Still, accidents do happen on the road. If you were injured in a collision it is important to seek legal counsel from experienced personal injury lawyers. Contact the Pennsylvania lawyers at Purchase, George & Murphey, P.C. to begin discussing your options today.
The articles on this blog are for informative purposes only and are no substitute for legal advice or an attorney/client relationship. If you are seeking legal advice, please contact our law firm directly.