Purchase, George & Murphey Named to Super Lawyers® List – Again!
June 9, 2020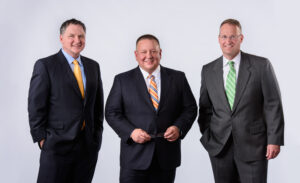 Each year, Super Lawyers® releases its list of the top lawyers in Pennsylvania. We're happy to announce that in 2020 every partner at Purchase, George & Murphey, P.C. made the Super Lawyers® list again!
The law firm of Purchase, George & Murphey, P.C. is no stranger to the Super Lawyers® list. We have received this honor every year for many years. Attorney Craig Murphey has been named to the Super Lawyers® list every year since 2011 (10 years); Attorney Tim George has been honored annually since 2016 (5 years), and Attorney Eric Purchase has been recognized since 2013 (8 years). This distinction is not given to everyone. In fact, only 5% of lawyers in Pennsylvania receive this honor. Learn more about the selection process and our team of highly rated lawyers below.
What is the Super Lawyers® list?
Super Lawyers® is a highly regarded publication that rates lawyers from across the country who have attained the highest peer recognition and professional achievement. This rating includes lawyers from more than 70 unique practice areas. Not every lawyer makes the Super Lawyers® list; you can't buy this recognition like you can buy TV or billboard advertising. Rather, it's an honor given to us by our peers. Being named to the Super Lawyers® list reflects what other lawyers think of us, and we are grateful to make the list again this year. Learn more about our team below.
About Purchase, George & Murphey, P.C.
"You always come first." This principle is reflected in our approach and handling your case. At Purchase, George & Murphey, we know that no two cases are alike. So, our approach varies and is tailored to you and the unique circumstances of your case. That's why we limit the number of cases we take on to make more time for you. We know that when you've been injured in an accident or face criminal charges, you need lawyers who are knowledgeable, experienced, and available to answer your questions, address your needs, and navigate the complexities that lie ahead.
In 2010, the firm was founded by Attorneys Eric Purchase and Tim George. In 2016, Attorney Craig Murphey joined us, bringing with him more than 25 years of experience representing some of the largest insurance companies in the region. We help people in the following areas:
Medical Errors
Drug Offenses
Sex Offenses
Theft & Burglary Offenses
All Felonies & Misdemeanors
Eric Purchase
Born and raised in Erie County, PA, Attorney Eric Purchase has devoted his life to representing individuals and their families against large insurance companies throughout the area. Mr. Purchase has represented clients in a variety of personal injury cases, including but not limited to medical malpractice, motor vehicle accidents and wrongful death. His compassion and experience have resulted in his recognition on the Top 100 2020 Pennsylvania Super Lawyers list for personal injury. In addition to the Super Lawyers® list, Mr. Purchase has also been the recipient of the Erie County Bar Association's President Award. He has also authored several publications.
Mr. Purchase also represents local businesses in commercial litigation cases including shareholder or partner disputes, contract litigation and more.
To schedule a consultation with Mr. Purchase, click here.
Tim George
Recognized by Super Lawyers® in the area of criminal law, since 1992 Tim George has defended the freedom of people charged with felony and misdemeanor offenses, as well as DUI. For more than 25 years, he has fought for accident victims hurt in car, truck, and motorcycle accidents. Tim is recognized by Martindale-Hubbell® with its highest peer review rating of AV Preeminent based on ethics and legal ability. He also has a 10/10 rating by Avvo based upon dozens of five-star online reviews.
Tim George is a former Army lawyer who served in Iraq. He uses his experience as an Army lawyer to help those who are navigating the criminal justice system for the first time. When speaking about his experience Tim says, "Young soldiers leaving their families behind have lots of questions, want information, and battle fear of the unknown, much like our clients who have never been involved in the civil or criminal justice system." It's this approach to clients that has helped Mr. George garner recognition on the Super Lawyers® list every year for the past five years.
Tim George and Eric Purchase wrote a consumer book to help people better understand what to expect (and what mistakes to avoid) after being hurt in a car accident. Tim also has written and recently updated other consumer books to help people who are charged with DUI in Pennsylvania understand their legal rights and protect their freedom. You can download these free books at www.yourerielawyers.com
If you would like to schedule a consultation with Mr. George, click here.
Craig Murphey
Craig Murphey has been representing clients in personal injury cases for more than thirty years. As such, his selection to Super Lawyers® for personal injury comes as no surprise. Mr. Murphey devotes 99% of his practice to litigation and comes with great experience handling auto accident lawsuits and bad faith insurance cases.
In addition to Super Lawyers®, Mr. Murphey has also been recognized by The Best Lawyers in America since 2012, most notably in 2017 as Pittsburgh region's "Lawyer of the Year" for personal injury defense, and in 2019 as the Pittsburgh region's "Lawyer of the Year" for insurance law. His areas of practice include but are not limited to personal injury, car, truck and motorcycle accidents, medical malpractice, and business litigation.
To schedule a consultation with Mr. Murphey, click here.
Schedule a Consultation Today
Whether you've been injured in an accident or are facing criminal charges, you're going to have questions. Purchase, George & Murphey is where you can get answers. Schedule a consultation today. The skilled attorneys at Purchase, George & Murphey, P.C. represent clients injured because of a car accident in Erie, Millcreek, Fairview, Harborcreek, and throughout Pennsylvania. Call (814) 273-2010 or fill out our online contact form to schedule a consultation about your case. We have an office conveniently located at 2525 W 26th St., Erie, PA 16056, as well as offices in Meadville and North East.
The articles on this blog are for informative purposes only and are no substitute for legal advice or an attorney-client relationship. If you are seeking legal advice, please contact our law firm directly.