Purchase, George & Murphey, P.C. is 100% Super (Again)!
June 9, 2022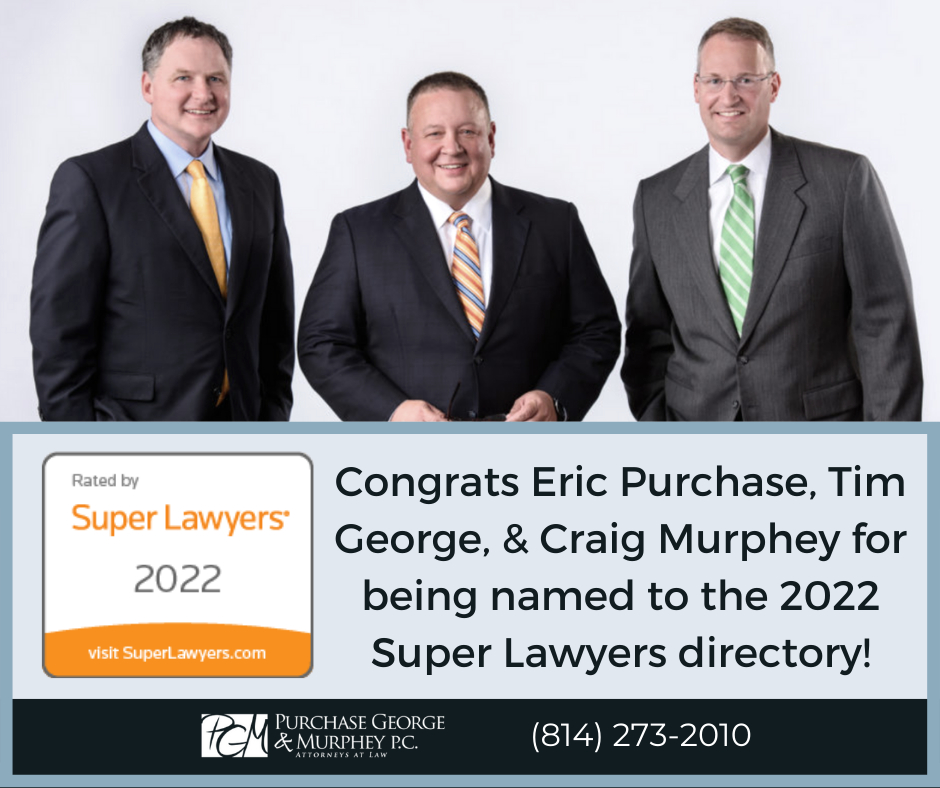 Purchase, George & Murphey is pleased to announce that all three principals have been named to the Pennsylvania Super Lawyers® list for 2022. Eric Purchase has been included for the past ten years for Personal Injury. Tim George has been selected for each of the past seven years for Criminal Defense. Craig Murphey has been listed as a Super Lawyer® annually since 2011. Since 2018, he has been recognized for his work in Personal Injury.
Super Lawyers® employs a three-step process to identify attorneys for inclusion on the annual list. Lawyers, like Eric, Tim, and Craig, are nominated by their peers or through third-party research. Super Lawyers® then applies 12 indicators of peer recognition and professional achievement. Finalists for the designation are then submitted to a "Blue Ribbon Panel" of practitioners that rates candidates. Only those candidates receiving the top scores in each category are selected as Super Lawyers®. No more than the top 5% of all lawyers in Pennsylvania are selected for inclusion on the list.
The lawyers at Purchase, George & Murphey, P.C. help victims of accidents and medical malpractice. They also represent people and small businesses in contract, shareholder, and partnership disputes. In addition, Tim also defends the rights of those accused of DUI and other criminal offenses. You can see what others say about us at www.yourerielawyers.com or call us to get started on your case today.