Pennsylvania Truck Accident Lawsuits
February 1, 2018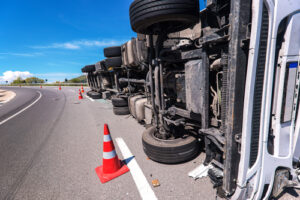 On average, 11 large truck accidents occur every day in the United States, according to estimates from the Federal Motor Carrier Safety Administration (FMCSA). About 4,000 deaths are caused by large truck accidents every year, and over 100,000 people are injured in these accidents. A fully-loaded tractor-trailer may weigh up to 80,000 pounds. In a collision with a 3,500 pound passenger vehicle, those in the smaller vehicle are more likely to suffer harm.
Truck accident lawsuits are often complex for a number of reasons. For example:
Truck Accidents May Involve Both State and Federal Law
Large trucks operate on state roads, where the state sets speed limits, weight limits, and similar rules. However, driver requirements, equipment standards, and a host of other safety rules for large trucks are prescribed by the federal government. When a truck causes an accident, both state and federal rules may be in play, making the case more complicated.
Multiple Parties May Be Liable
When a large truck causes an accident, the first instinct of many is to blame the driver. Some drivers do cause truck accidents. However, to ensure that every negligent party is held accountable in a crash, it's vital to broaden the view of potentially involved parties.
For example, the trucking company may have negligently planned the route or hired an unqualified driver, resulting in an accident. If cargo was loaded by a separate company and loading was done carelessly, the load shifting or coming loose may have caused a crash. Mechanics or repair crews responsible for keeping the truck in good working order may be liable if they failed to perform work correctly. Or a truck part may be negligently manufactured or designed and have failed under real-world roadway conditions, causing harm.
If you've been injured in a crash with a large truck, don't hesitate to contact an experienced Pennsylvania truck accident lawyer. Your attorney can help investigate your claim, explain your legal rights and options, and build a strategy for pursuing the compensation you need. Call Purchase, George & Murphey P.C. today at (814) 580-5017 or (877) 505-9548  or contact us via our online contact form to learn more.
The articles on this blog are for informative purposes only and are no substitute for legal advice or an attorney/client relationship. If you are seeking legal advice, please contact our law firm directly.