New Blossoms New Life Foundation Helps Couples Struggling with Infertility Get the Chance to be Parents by Funding In-Vitro Fertilization Efforts
September 13, 2018
The Birth of a Charitable Organization in PA that Helps Birth More Babies and Create More Families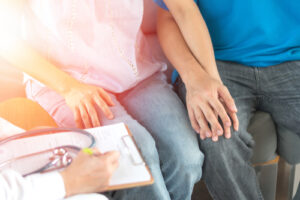 Many beautiful causes and amazing organizations stem from tragedy.  When something devastating happens, the good people of the world look for ways to bring positivity to a hard situation and spread kindness and joy.  That is what the founders of New Blossoms New Life Foundation, Chris and Renea' Kovski, did for the world.  After struggling for years with infertility and in-vitro fertilization and losing their beautiful 2-year-old daughter Maggie in an accident, they chose to honor her by creating this charity organization. Every year, they find ways to raise money for struggling couples to be able to use IVF and receive the gift of raising a child and creating a family.  
To read the complete and beautiful story of the birth of New Blossoms New Life Foundation, click here!
Details and Accomplishments of the New Blossoms New Life Foundation
Since its founding in 2008, New Blossoms New Life Foundation has helped over 80 couples get funding, which has resulted in 58 new babies born into our world who would not be with us without the dedication and charitable hearts of New Blossoms New Life's volunteers and donors.  2017 was an incredibly successful year and a new record for the charity as well. A whopping 14 couples were able to get full funding for in-vitro fertilization efforts.  Chris and Renea' Kovski have helped dreams come true for so many couples who want to start a family.
In order to apply and qualify for IVF funding, New Blossoms New Life Foundation does have a list of requirements.  You must completely fill out the application they have online and e-mail it to newblossoms@velocity.net.  
Requirements necessary to apply for IVF funding include:
Must have had a

consultation with Dr. James Goldfarb

of  University Hospital in Beachwood, OH.  An appointment can be made by calling 216-286-6551.

Must

reside in the tri-county area of Pennsylvania

(Erie, Crawford, or Warren counties).

Female patient must be 39 years or younger when starting the IVF cycle. (As of 2018, a patient's

age is a guideline, not a requirement

, and is subject to the recommendation of Dr. Goldfarb)

Must be

legally married

.

Must have

no more than one child

.

Your total household income is taken into consideration when choosing applicants. (A

copy of your most recent W2 is required

).

You will be

responsible to cover the cost of your medications

.

You are

required to have completed 2 cycles of IUI's

. (unless Dr. Goldfarb has advised a different protocol).

You will be required to

attend a mandatory informational meeting

.  Dates TBD

There is a

$25.00 application fee

that must be received prior to processing your application.
You can download their application for IVF funding here!
Infertility Challenges and Medical Malpractice Cases in PA
Today, over 9 million women and 2 million men face infertility problems and complicated diagnosis and treatment processes.  Not everyone who faces infertility, however, does so due to medical issues that were unavoidable. Many couples who cannot conceive are in that situation because of negligence from their healthcare professional(s).  For people who dream of raising a child and having a family, a doctor's careless error can result in devastating consequences. Although IVF is often an option in these cases, a single effort at IVF can easily cost over $10,000 out of pocket and is not an affordable option for many couples.
There is some good news though.  If you or your partner are unable to conceive due to a doctor's careless service as a medical practitioner, you may be entitled to compensation for the resulting infertility.  If you are able to file a claim and win against a medical institution or health care professional, you may be able to afford IVF and still be able to have a child with your partner.  For those harmed by medical malpractice, not all hope is lost.
Schedule a Free Consultation with a Pennsylvania Medical Malpractice Attorney Regarding Your Infertility Case
If you are suffering infertility because of a health care provider's carelessness, the lawyers of Purchase, George & Murphey, P.C. are here to help.  We believe every couple deserves the chance to experience the miracle of life and the joy of raising one of their own. We believe in it so much, our law firm has been a major sponsor of New Blossoms New Life since its beginning.  We understand how heartbreaking infertility can be, and we are here to help legally support you in your medical malpractice case. Call us today at 814-273-2010 or contact us using our online form here to schedule a free initial consultation.  If we are able to secure a victory for you, IVF can be an affordable option, and a baby can be in your future.  Don't wait. Call now!