Is There a Link Between Talc Powder and Ovarian Cancer?
November 7, 2017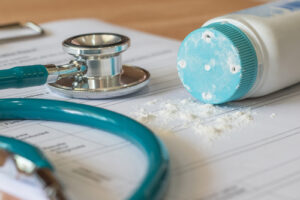 Any consumer product that has the potential to leave you with serious injuries or even to develop catastrophic medical conditions is an unnerving experience. Unfortunately, many women are now raising concern about the connection between ovarian cancer and talc powder.
Talc powder has been marketed as a relatively safe consumer product and many women chose to use it on their undergarments without realizing the potential connection for the development of ovarian cancer after regular use. Scientists have been asking for several decades whether or not talc powder contributes to ovarian cancer and dozens of studies now suggest that there is a link even though manufacturers of body and talc powder have refused to believe there is a connection.
Researchers have found in recent years, however, that a number of women who have regularly and consistently used talcum powder on or near their genitals have developed ovarian cancer. In fact, the International Agency for Research on Cancer identified that women who used talcum-based body powder are as much as 60% more likely to develop ovarian cancer and other studies believe that the increase could be higher.
Talc powder has been classified as possibly carcinogenic to humans. There are currently more than 1200 lawsuits pending against the largest manufacturer of talc powder in the United States, Johnson & Johnson. If you have been recently diagnosed with ovarian cancer and you believe that it may be connected to your use of talc powder, you need to consult with an experienced New York product liability and personal injury lawyer as soon as possible. No consumer should have to worry about the safety of this products and yet it's a reality for many coping with a cancer diagnosis.
Learn more about the services provided by Purchase George & Murphey P.C. by scheduling a call with someone today.  Get your consultation by contacting us at 814-273-2010 or by filling out our convenient online contact form.
The articles on this blog are for informative purposes only and are no substitute for legal advice or an attorney/client relationship. If you are seeking legal advice, please contact our law firm directly.