I Fell from Scaffolding While on the Job. Can I Sue?
March 16, 2020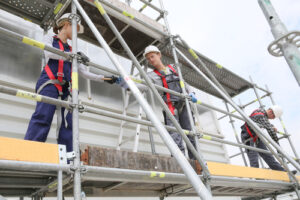 If you are a construction worker who suffered a fall accident from scaffolding on the job, whether or not you can file a lawsuit for your injuries and other losses depends on the circumstances of your accident. You might be entitled to sue a third-party, and in some limited cases even your own employer, for your scaffolding accident.
Click the link for additional safety tips for construction workers and what to do if you are injured while working on a construction site in Pennsylvania.
Seeking Workers' Compensation
As a general rule of thumb, if you suffer an injury on the job, your sole remedy against your employer is to file a workers' compensation claim with your employer. The workers' compensation system is a no-fault system under which an employee foregoes the right to bring a personal injury claim against his or her employer in exchange for guaranteed payments for medical expenses and partial wage replacement, regardless of who was at-fault for a work-related injury or illness.
Workers' compensation provides benefits including:
Reasonable and necessary medical treatment
Partial wage replacement for time missed from work
Disability payments if you are unable to return to work due to your injuries
An injured employee is required to notify his or her employer as soon as possible after a work-related injury. If the employee delays reporting, the employee may become ineligible for workers' compensation benefits under the law. If the employer accepts the injury as work-related, they will begin to pay workers' compensation benefits from the date of the accident. If the employer denies that the employee's is work-related, or declines to pay benefits the employee believes he or she is entitled to, the employee may have to file a claim with the state, which will be heard by a workers' compensation judge or hearing officer in a trial-like hearing, in which the judge or hearing officer will render a decision on the employee's entitlement to benefits.
What to Do If Your Employer Does Not Offer Workers' Compensation
If your employer does not offer workers' compensation benefits and is required to by law, you may be entitled to file a personal injury lawsuit against your employer. You may also be entitled to access a state-run fund to help pay for medical expenses if your employer fails to provide required workers' compensation benefits.
In addition, your scaffolding accident may have been caused by a third party. If a third-party bears fault for your accident and injuries, you may be able to file suit against those third parties. For example, if your accident was caused by defectively designed or manufactured scaffolding, you may be entitled to file a products liability lawsuit against the scaffolding manufacturer. If the scaffolding was negligently erected by another contractor, you may be entitled to file a negligence claim against that contractor. And if your scaffolding accident was caused by some defect of the property, you might be entitled to file a premises liability action against the property owner.
Seeking Additional Damages
Even if your employer does offer workers' compensation benefits, you can still file a lawsuit against a third-party who bears some responsibility for your scaffolding accident. However, your employer may be entitled to be reimbursed for workers' compensation benefits it paid to you from any recovery in a personal injury lawsuit, since you cannot receive a double-recovery for your scaffolding accident injuries.
Contact a Erie Workers' Compensation Lawyer to Discuss Your Pennsylvania Workplace Injury Case
A workplace injury can be devastating, particularly if it prevents you from returning to work for an extended period of time. Although Pennsylvania Workers' Compensation laws are supposed to provide you with reimbursement for medical expenses and replacement pay for missed time at work, it is not always easy to get the Workers' Comp benefits you deserve. That is why you should speak with a knowledgeable Workers' Compensation lawyer about your situation and get guidance throughout the claims process. The experienced Workers' Compensation attorneys at Purchase, George & Murphey, P.C. represent clients in Millcreek, Harborcreek, Fairview, Meadville, and all across Pennsylvania. Call (814) 833-7100 or email us today to schedule a consultation about your work injury case. Our main office is located at 2525 W. 26th St., Erie, PA 16506, and we also have offices in Meadville and North East.
The articles on this blog are for informative purposes only and are no substitute for legal advice or an attorney-client relationship. If you are seeking legal advice, please contact our law firm directly.