How Long Do You Have to File a Birth Injury Lawsuit?
July 15, 2020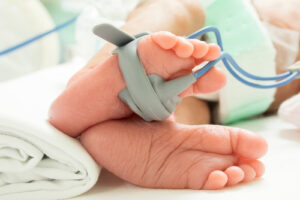 Across the United States, approximately 7 out of every 1,000 babies born every year will endure a birth injury. A birth injury is defined as an injury to an infant that is inflicted during pregnancy, during delivery, or shortly after birth. Birth injuries can include broken bones, nerve injuries, and brain damage. Birth injuries most frequently result from a lack of oxygen or insufficient oxygen during birth.
If your child has suffered a birth injury, you need to make yourself aware of the time limits on filing a lawsuit to seek compensation for your child's birth injury so that your child doesn't lose out on important rights and compensation.
Common Causes of Birth Injuries
Some of the most frequent causes of birth injuries include:
Oxygen deprivation – As many as two babies out of every 1,000 births per year suffers from oxygen deprivation, which results when there isn't enough oxygen reaching the baby's brain. Oxygen deprivation can lead to permanent birth injuries such as brain damage or cerebral palsy.
Delayed birth – If the birthing process begins to take too long, an infant is increasingly at risk for injury. A delayed birth can leading to injuries stemming from oxygen deprivation, or can lead to nerve damage if the baby, especially his or her limbs, are caught in the birth canal.
Medication – Physicians must take care when prescribing medication to expecting mothers, as certain medications can be incredibly harmful to a developing fetus. In particular, commonly used medication such as acne treatments or anti-seizure medication can lead to serious birth injuries such as congenital heart disease.
Medical malpractice – Although any birth injury likely arises from a treating physician's failure to monitor mother and child during the pregnancy, deliver, and immediately following delivery, doctors themselves can inflict birth injuries. For example, using too much force to assist with delivery or improperly using tools such as forceps or vacuum extraction can lead to serious physical injury to the baby, especially to the head, neck, shoulders, and arms, leading to injuries such as head injuries, brain damage, broken bones, oxygen deprivation, or brachial plexus injuries and other nerve damage.
Statute of Limitations
In Pennsylvania, you have a limited period of time called the statute of limitations in which to file a lawsuit against a physician whose negligence led to your child's birth injury. The statute of limitations for medical malpractice leading to birth injury is two years from the date of injury. However, if it is not immediately apparent that your child suffered a birth injury (it can take several months or even several years for symptoms of neurological damage to manifest themselves in infants and toddlers), you have up to seven years from the date of birth to discover your child's injury and its causes and to file suit.
Process of Filing a Birth Injury Lawsuit
If you believe that your child has suffered a birth injury due to the negligence of your physician, you may file a medical malpractice lawsuit to recover compensation for your child's medical treatments and ongoing personal care. You may have a valid medical malpractice claim if you can show that your physician's conduct fell below the applicable standard of care, or, the actions (or omissions) that another reasonable physician of similar training and experience would have undertaken under identical circumstances as your case. If you might have a viable claim, the hospital where you delivered your child, or its or your physician's malpractice insurer, may reach out to you to discuss a potential settlement of your claim. You should definitely hire a medical malpractice attorney to represent you and ensure that any settlement offer you accept provides your child with full and fair compensation.
If it becomes necessary to file a lawsuit, your attorney will thoroughly investigate your case and gather all relevant evidence, including medical records, witness statements, and other relevant documents. You should also be keeping records of the costs you incur to treat your child's injury and care for any difficulties those injuries place on your child.
Contact a Medical Malpractice Attorney for a Consultation About Your Birth Injury Case in Pennsylvania
Were you or a loved one injured due to medical malpractice in Pennsylvania? Then you need to talk to an experienced medical malpractice lawyer as soon as possible for guidance on how to proceed. The Erie birth injury attorneys at Purchase, George & Murphey, P.C. are prepared to assist you with your legal claim. We represent victims of negligent surgeons, doctors, nurses, and pharmacists throughout Pennsylvania, including Millcreek, Harborcreek, Fairview, and Meadville. Call us today at (814) 833-7100 or fill out our online contact form to schedule a consultation. Our main office is located at 2525 W. 26th St., Erie, PA 16506, and we also have offices in Meadville and North East.
The articles on this blog are for informative purposes only and are no substitute for legal advice or an attorney-client relationship. If you are seeking legal advice, please contact our law firm directly.