How Can I Find Out if I Have a Medical Malpractice Case?
May 15, 2020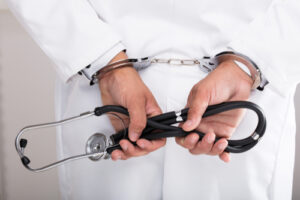 If you went in for a routine procedure or corrective surgery and came out with more complications than what you went in to have corrected, you may have been the victim of medical malpractice. As humans, we're going to face a number of medical issues throughout our lifetime. Whether these are common ailments or diagnoses that turn our lives upside down, we entrust our physicians, pharmacists and other medical staff to properly identify and treat our conditions. As such, the realization that negligence may have contributed to your medical condition is one that's often met with fraught. Below, we will take a look at what medical malpractice is and how you can determine whether or not you have a valid case to file a claim in Pennsylvania.
What is Medical Malpractice?
Medical malpractice is when harm befalls a patient as the result of a negligent doctor or other medical professional failing to perform his or her medical duties.
What Do I Have to Prove in my Medical Malpractice Claim?
While a medical malpractice case may seem pretty straightforward (you suffered injuries that you shouldn't have), there are certain elements that must be proved in order to move forward. Notably, these include:
Establishing that a doctor-patient relationship existed
Your doctor (or medical professional) was negligent
The doctor (or medical professional)'s negligent actions caused your injury
Your injury led to specific damages such as physical pain, medical bills or the inability to work/lost wages
What Are Some Common Examples of Medical Malpractice?
While these can vary, some of the most common examples of medical malpractice often include:
Failure to diagnose a condition such as heart disease or cancer
Medication errors, including mixing up a patient's medication or prescribing the wrong dosage
Surgical errors, including operating on the wrong patient or wrong side of the body
Birth injuries, such as Cerebral Palsy or facial nerve damage
What Evidence Do I Need for My Medical Malpractice Claim?
If you suspect that you've been a victim of medical malpractice, you should gather up all your medical records as soon as possible. Computer systems can be unreliable and as such, certain records may have changed, along with it your access to it. You can obtain your medical records by contacting the administrator at the hospital or other medical establishment you believe the malpractice occurred at. While you should be able to easily access your medical records by signing a HIPAA form (Health Insurance Portability and Accountability Act), the team at Purchase, George & Murphey, P.C. can help if you're having difficulty doing so.
Contact a Fairview Personal Injury Lawyer to Discuss Your Medical Malpractice Case in Pennsylvania
Did you or a loved one sustain serious injuries due to medical malpractice in the state of Pennsylvania? Don't let the medical bills pile up while you wait for the negligent party or their insurance company to do the right thing. Right now, you need an aggressive personal injury attorney on your side, fighting to get you the compensation you need, want, and deserve. The skilled attorneys at Purchase, George & Murphey, P.C. represent clients injured because of medical malpractice in Erie, Millcreek, Fairview, Harborcreek, and throughout Pennsylvania. Call (814) 273-2010 or fill out our online contact form to schedule a consultation about your case. We have an office conveniently located at 2525 W 26th St., Erie, PA 16056, as well as offices in Meadville and North East.
The articles on this blog are for informative purposes only and are no substitute for legal advice or an attorney-client relationship. If you are seeking legal advice, please contact our law firm directly.