Four Biggest Turkey Day Health Risks
November 23, 2017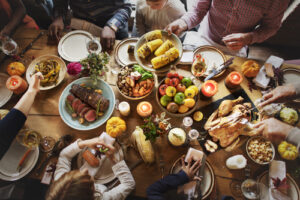 Many people look forward to Thanksgiving all year, as it is one of the most cherished holidays in the United States. However, there are some dangers associated with Thanksgiving.  Many accidents and injuries affecting Americans occur in the home or during travel.
Thanksgiving comes with many different health risks, but being mindful can minimize your chances of a severe accident or injury and having to visit the emergency room on a holiday. Some of the most common types of injuries sustained on Thanksgiving are cooking mishaps. Cuts and burns, food poisoning and deep fryer accidents lead the list of severe personal injuries. Second common cause of severe injuries associated with Thanksgiving has to do with auto accidents. Because many more people are traveling on this holiday, and are in a rush to get to and from their location, car accidents are more common.
Driving under the influence, distracted driving, and increased traffic all skyrocket your chances of an accident. Another risk to be mindful of around the Thanksgiving holiday is your mental health and stress. While turkey day should be one of the best days of the year for your health and well-being – since you get a break from work – planning ahead as much as possible should always be incorporated to decrease your stress and the challenges that may come with visiting family.
Another risk to consider as the Thanksgiving holiday draws closer has to do with your heart health. Limiting your portion sizes, remaining active and limiting your alcohol intake can ensure that you enjoy your Thanksgiving holiday without taking significant risks that could endanger your health.
Many people look forward to this holiday and enjoy the time with family and the excellent cooking that it brings, but doing everything possible to protect everyone's safety and decreasing your chances of an accident can go a long way towards making Thanksgiving a holiday you cherish for many years to come. If you or someone you know is injured on this year's Thanksgiving holiday, you need to consult with an experienced personal injury lawyer immediately to protect your interests. Make sure you schedule a meeting with the lawyers at Purchase George and Murphey P.C. if you find yourself suffering from injuries. Contact the firm today for a consultation at 814-273-2010.
The articles on this blog are for informative purposes only and are no substitute for legal advice or an attorney/client relationship. If you are seeking legal advice, please contact our law firm directly.