Explaining a Claim for Wrongful Death
April 1, 2019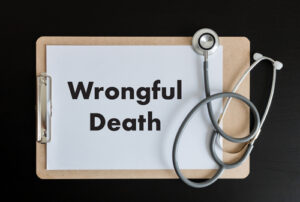 Wrongful death is a phrase that no one wants to hear. The loss of a loved one is difficult enough to deal with; add in the fact that it might have been caused because someone else was negligent and the loss can be downright unbearable. Wrongful death is defined as the death of someone that could have been avoided and was due to actions by someone else. Those actions could have been intentional or accidental in nature. A claim of wrongful death is made in civil court by the surviving family members of the decedent and is filed against the person who can be held legally responsible for the death.
Bringing a Valid Wrongful Death Claim to Court
If you wish to file a wrongful death claim that is valid in court you will need to show that the death of your loved one was caused by the inactions or actions of another person. The next step in making a valid claim is for the plaintiff to show that the actions were either intentional or negligent. Intentional actions would include murder and negligent actions would include medical malpractice. After the death and the cause of death have been established, it is time to determine who is allowed to file a lawsuit for wrongful death with the court. For the most part, a family member who has suffered monetary loss due to their loved one's death can file a wrongful death lawsuit. This most often includes a spouse or a child.
Medical Malpractice and Wrongful Death
One of the most common reasons why wrongful death lawsuits are filed include the presence of medical malpractice. Doctors, nurses, pharmacists and other medical professionals have a duty of care they must provide their patients. When this duty of care is breached an injury can occur. The injury can then lead to damages. If all of these items are present then the duty of care has been breached and the medical professional can be held liable for the person's death. Medical malpractice includes any of the following:
Failure to diagnose
Failure to treat
Wrong-site surgery
Wrong patient surgery
Items left inside a patient after surgery
Delayed diagnosis
Errors with anesthesia
Defective medical equipment or parts
Cross-contamination
Murder and Wrongful Death
The surviving family members of a murder victim can legally seek damages from the person accused of killing their loved one. The subject might not be convicted of the murder in a criminal court, but could still wind up losing a wrongful death lawsuit in a civil court. On the other hand, the subject involved in the murder case could be convicted in the criminal court and still face a civil lawsuit filed by the surviving family members. The two are completely independent of each other.
Common Wrongful Death Claims
The most common claims of wrongful death stem from the following:
Murder
Defective products
Malfunctioning parts
There are other instances where wrongful death can be claimed in a civil court. You just need to show the evidence of a duty of care was necessary and wound up being breached.
Contact an Erie Personal Injury Lawyer to Discuss Your Wrongful Death Case in Pennsylvania
Did your loved one die as a result of medical malpractice or defective products in Pennsylvania? Don't let the medical bills pile up while you wait for the negligent party or their insurance company to do the right thing. Right now, you need an aggressive personal injury attorney on your side, fighting to get you the compensation you need, want, and deserve. The skilled attorneys at Purchase, George & Murphey, P.C. represent the families of wrongful death victims in Erie, Millcreek, Fairview, Meadville and throughout Pennsylvania. Contact us by calling 814-833.7100 or email us to schedule a free consultation about your case. We have an office conveniently located at 2525 W 26th St. Erie, PA 16506 as well as offices in Meadville and North East, PA.
The articles on this blog are for informative purposes only and are no substitute for legal advice or an attorney-client relationship. If you are seeking legal advice, please contact our law firm directly.