Do Truck Accidents Become More Common During the Winter Season?
November 6, 2020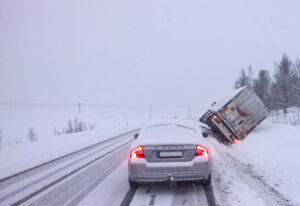 Winter roads can present a dangerous driving situation for people, especially commercial truck drivers. Trucks are heavier in weight and do not have the same stopping power as motor vehicles do, so when they hit a patch of ice, they tend to slide, hitting whatever is in their way.
Read more: Commercial Truck Accident Cases: Critical Evidence You Need to Win
Winter Truck Accident Statistics
Here are a few statistics about truck accidents in the winter months:
Each year, about 24% of weather-related accidents occur in winter weather conditions
Over 1,300 people are killed each year, and another 116,000 are injured on winter roads
Local state and city agencies spend an estimated 2.3 billion each year to control ice and snow
Road agencies will spend billions of dollars each year to repair poor roads due to winter weather and accidents
Winter roads and large trucks can pose a dangerous situation. This can be especially dangerous for motor vehicles if they are involved in an accident with a commercial truck. Truck accidents in the winter can be even riskier when you add in poor road conditions, fatigued driving, or a lack of driver training.
Read more: Licensing Requirements For Commercial Truck Drivers
Types of Injuries From Winter Truck Accidents
Winter truck injuries are often severe and life-changing. These injures are not uncommon following a trucking accident:
Broken bones
Internal bleeding
Deep lacerations
Spinal cord and back injuries
Unfortunately, fatalities can also occur when commercial trucks lose control on the road. While truck drivers cannot control the weather, they can control how safe they are on the road, including the safety precautions that they take. For example, a truck driver should reduce their speed and allow for more room between vehicles to avoid an accident when the weather is bad.
Additionally, drivers are required to have a certain number of hours of training before driving a commercial truck on their own. Failing to take these certain precautions can mean that the driver is negligent. It is also possible for the trucking company to be at fault, if they failed to maintain the truck, which then leads to an accident.
Get the Compensation That You Need to Recover
If you experience any of the listed injuries in a truck accident, it is likely that you will require ongoing medical care. You may need emergency medical care, as well as ongoing medical appointments and procedures. If the injuries are significant, then you may need household renovations to accommodate a mobility device.
Some injuries can also prevent you from returning to the same line of work. Each of these costs, or damages, is why it is so important to work with a personal injury lawyer following a truck accident.
In addition to determining who is responsible for your injuries, your lawyer will also fight to get you the compensation that you need to recover.
Read more: Should I Get a Truck Accident Lawyer?
Contact a Meadville Personal Injury Lawyer to Discuss Your Truck Accident Case in Pennsylvania
Did you or a loved one sustain serious injuries due to a truck accident in Pennsylvania? Don't let the medical bills pile up while you wait for the negligent party or their insurance company to do the right thing. Right now, you need an aggressive personal injury attorney on your side, fighting to get you the compensation you need, want, and deserve. The skilled attorneys at Purchase, George & Murphey, P.C. represent clients injured because of a truck accident in Erie, Millcreek, Harborcreek, Fairview, and throughout Pennsylvania. Call (814) 833-7100 or fill out our online contact form to schedule a consultation about your case. We have an office conveniently located at 2525 W 26th St. Erie, PA 16506, as well as offices in Meadville and North East, PA.
The articles on this blog are for informative purposes only and are no substitute for legal advice or an attorney-client relationship. If you are seeking legal advice, please contact our law firm directly.