Cataract Surgery Malpractice & Complications
January 18, 2018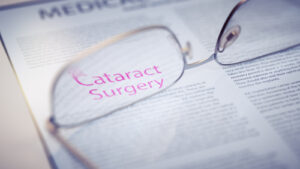 Cataracts occur when the lens of the eye clouds over, reducing a person's vision. Cataracts are more common in elderly adults, and some estimates indicate that over half of U.S. residents age 80 or older have had cataracts. Cataracts can also result from other health conditions, such as diabetes, or occur after an injury to the eye. Cataract surgery is a common procedure to address the problem. When malpractice occurs, however, serious injuries can result.
Medical malpractice is defined as medical care or treatment that falls below the prevailing standard of care for similar conditions when care is given by a reasonably competent practitioner. Often, care that falls below standard results in harm to the patient. While every surgery comes with some risks, malpractice can introduce new risks or exaggerate existing risks to an unacceptable and dangerous degree.
Common types of medical malpractice that may occur during cataract surgery include:
Failure to provide proper pre-op and post-op care instructions, resulting in infections or other serious complications,

Negligence in administering anesthesia or other medications, causing harm,

Surgical errors, such as operating on the wrong eye,

Failure to use proper medical or surgical techniques, which might result in infection or damage to the eye or other body parts,

Errors in prescribing medication or administering medication either before or after surgery.
Other types of negligence or errors can also result in serious harm. The eye is a highly delicate part of the body, and it has no natural immunity. In addition, sighted humans rely heavily on their vision to navigate and to carry out many daily tasks. If your vision is permanently damaged due to medical malpractice during cataract surgery, your entire life may be severely affected.
If you've been injured or suffered illness as a result of cataract surgery, an experienced Erie, Pennsylvania medical malpractice lawyer can help you understand your legal rights, investigate what happened to you, and seek the compensation you deserve. Contact Purchase, George & Murphey P.C. today at (814) 580-5017, or (877) 505-9548, or fill out our convenient online contact form to learn more.
The articles on this blog are for informative purposes only and are no substitute for legal advice or an attorney/client relationship. If you are seeking legal advice, please contact our law firm directly.