7 Causes of Warehouse Accidents and How You Can Prevent Them
August 26, 2021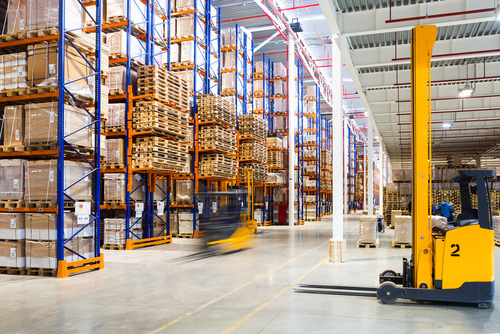 Warehouses represent one of the most dangerous workplaces in Pennsylvania. Warehouses can be chaotic places to work, with machinery and equipment in use and heavy objects being moved around. And when a warehouse has gone a long time without an accident, workers and managers can become complacent and lax in enforcing safety procedures and protocols.
Warehouse owners and workers should familiarize themselves with some of the most common causes of warehouse accidents and the steps they can take to prevent or reduce the risk of accidents happening.
Falls from Heights
Falls from heights can occur from as low as just a few feet; in fact, many falls from heights occur from heights of 15 feet or less, typically occurring when a worker falls off a stool or ladder when attempting to reach items on higher shelves in the warehouse. Falls from heights can be prevented by utilizing fall protection equipment where appropriate and equipping workers to use more stable platforms, such as scissor lifts or cherry pickers when accessing higher shelving.
Slip or Trip and Falls
Slip and fall or trip and fall accidents represent one of the most common types of accidents in warehouses and other workplaces. Floors can become slippery due to spills of oil, water, or other fluids, or from water, ice, snow, or mud, or plant debris being tracked in from outside. Trips can happen due to cables or debris being strewn across walking paths in the warehouse. Slip/trip and fall accidents can be prevented by keeping walkways clear of tripping hazards and enforcing policies of conducting spot-checks for slipping or tripping hazards.
Repetitive Motion Injuries
Warehouse workers are particularly at risk for suffering repetitive motion injuries, or from injuring themselves with heavy objects. These physical injuries can be avoided by teaching workers proper lifting and movement techniques and providing them with ergonomic assistance equipment.
Toxic Exposure
Warehouses may contain various toxic or corrosive substances. If workers are required to move or handle toxic or dangerous substances or materials, they should be provided with appropriate personal protective equipment. Warehouses should also be designed with appropriate ventilation along with facilities to quickly react to a toxic exposure, such as eyewash stations or showers.
Entanglement Accidents
Warehouse workers may be injured when getting entangled in equipment or machinery like conveyor belts or sorting equipment. Workers should be trained in the appropriate use of equipment and machinery, including wearing appropriate clothing to reduce the risk of getting caught or entangled. Equipment and machinery should also be equipped with appropriate safety devices such as guards or emergency stop switches.
Machinery Accidents
Machinery and equipment accidents can also occur because the equipment or machinery has not been properly maintained or because they suffer from design or manufacturing defects. Warehouse operators should ensure that equipment and machinery being used by workers is always in good condition and working order.
Forklift Accidents
Forklift accidents represent one of the most common equipment/machinery accidents in warehouses due to their prevalence. Workers may be injured after being hit, crushed, or impaled by a forklift, or a forklift operation may be injured in an accident such as an overturned forklift. Forklift accidents can be avoided by ensuring that forklifts are only used by workers with the appropriate training and certification, that warning sirens and lights on forklifts are in good working order, and by separating workers from paths that forklifts use to travel around the warehouse.
Contact an Erie Workers' Compensation Lawyer to Discuss Your Pennsylvania Workplace Injury Case
A workplace injury can be devastating, particularly if it prevents you from returning to work for an extended period of time. Although Pennsylvania Workers' Compensation laws are supposed to provide you with reimbursement for medical expenses and replacement pay for missed time at work, it is not always easy to get the Workers' Comp benefits you deserve. That is why you should speak with a knowledgeable Workers' Compensation lawyer about your situation and get guidance throughout the claims process. The experienced Workers' Compensation attorneys at Purchase, George & Murphey, P.C. represent clients in Millcreek, Harborcreek, Fairview, Meadville, and all across Pennsylvania. Call (814) 833-7100 or fill out our online contact form today to schedule a free consultation about your work injury case. Our main office is located at 2525 W. 26th St., Erie, P.A. 16506, and we also have offices in Meadville and North East.
The articles on this blog are for informative purposes only and are no substitute for legal advice or an attorney-client relationship. If you are seeking legal advice, please contact our law firm directly.