4 Scary Statistics About Pedestrian Accidents on Halloween Night
October 31, 2020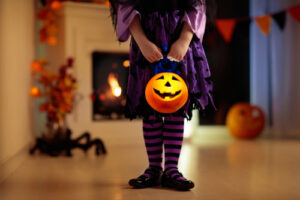 Today is Halloween and while we hope you and your family have a great day filled with sweets, scary movies and memories that'll last a lifetime, we also want you and your loved ones to stay safe. Halloween night, while incredibly fun, can also be incredibly dangerous. Here are five frightful facts about pedestrian accidents – and how you can keep you and your family safe tonight.
About 1 in 4 Fatal Pedestrian Accidents are Caused by a Drunk Driver
In fact, statistics show that about 44% of all national fatal crashes on Halloween weekend involved either a motorcyclist or motorist who had a BAC of 0.08 or higher. If you and your children are going out trick-or-treating, please be cognizant of other drivers and only use designated crosswalks to cross the street.
The Risk of Pedestrian Accidents are Highest During Evening Hours
Data shows that children run the highest risk of being involved in a fatal pedestrian accident between the hours of 4:00pm to 10:00pm, with the risk being at its highest between the hours of 6:00pm-7:00pm. Always remind children that just because they may be able to see an oncoming vehicle, it doesn't necessarily mean that the oncoming vehicle can see them. If your child isn't wearing a brightly colored costume, make sure you add reflective tape either to their costume or bag of candy so that way they are more visible. It's also recommended that children carry flashlights or glow sticks, if able to.
Halloween Pedestrian Accidents Occur Outside of Crosswalks
When children are out trick-or-treating, it's normal for them to want to get to as many houses as possible. However, trick-or-treaters and the adults accompanying them should only ever cross the street at a designated crosswalk and only when it is safe to do so. Studies show that less than 1 in 3 pedestrian accidents occur at a crosswalk or intersection, showing that many of these fatal accidents happen when people jaywalk or dart across the street without looking.
Kids Are Twice as Likely to be Victims of Pedestrian Accidents on Halloween
According to statistics, children are twice as likely to become the victim of a pedestrian accident on Halloween night than any other night of the year. Nearly half of all pedestrian accidents that occur on Halloween happen to children who are between the ages of 12 and 18 years old. Tragically, forty percent of children who are killed in pedestrian accidents are between the ages of 7 and 12.
While we hope you and your loved ones have a fun night tonight, please be safe. Make sure you yield to oncoming traffic, follow the law and make sure you and your loved ones are visible to other drivers before crossing the street.
Contact an Erie Personal Injury Lawyer to Discuss Your Pedestrian Accident Case in Pennsylvania
Did you or a loved one sustain serious injuries due to a pedestrian accident in Pennsylvania? Don't let the medical bills pile up while you wait for the negligent party or their insurance company to do the right thing. Right now, you need an aggressive personal injury attorney on your side, fighting to get you the compensation you need, want, and deserve. The skilled attorneys at Purchase, George & Murphey, P.C. represent clients injured because of a pedestrian accident in Erie, Millcreek, Harborcreek, Fairview, and throughout Pennsylvania. Call (814) 273-2010 or fill out our online contact form to schedule a consultation about your case. We have an office conveniently located at 2525 W 26th St., Erie, PA 16506, as well as offices in Meadville and North East, PA.
The articles on this blog are for informative purposes only and are no substitute for legal advice or an attorney-client relationship. If you are seeking legal advice, please contact our law firm directly.