10 of the Most Common Workplace Accidents and Injuries
May 22, 2021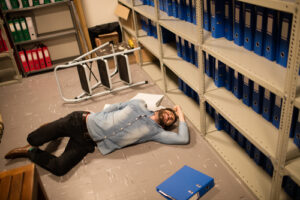 There are thousands of workplace accidents across Pennsylvania, and tens of thousands more accidents across the county. Even employers and workers who take every precaution can still fall victim to a workplace accident.
Common Worksite Accidents
Some of the most common accidents at worksites across Pennsylvania include:
Slip/trip and fall accidents – No matter where you work, it is likely only a matter of time before you encounter a slipping or tripping hazard, such as snow, ice, water, or other slippery substances on the floor, broken flooring, tiles, or pavement, loose or torn carpeting or rugs, loose wires across a walkway, or uneven pavement or potholes. In addition to slip/trip and fall accidents, workers can also face the risk of a fall from height, including falls from ladders, scaffolding, and other platforms.
Muscle strains – Workers can easily suffer muscle strains when trying to lift heavy items. Many muscle strain accidents and injuries can be avoided with employer training on proper lifting techniques.
Falling objects – Workers can easily be injured in an accident involving an object falling from a height. Although mostly frequently occurring in warehouse workplaces, falling object accidents can even occur in office settings, where a heavy object falls from a cabinet or cupboard. Falling object accidents can be avoided with proper storage facilities and reminding employees on properly storing items.
Repetitive stress injuries – A repetitive stress or strain injury isn't limited to just manual labor workers. Even office workers can suffer this kind of injury just by using a keyboard frequently. Employers can reduce the risks and frequency of RSIs by having workers take regular breaks and providing them with ergonomic equipment that allows workers to perform the tasks of their job with minimal physical strain.
Motor vehicle accidents – Sometimes it is necessary for employees to travel by car for job-related tasks. In addition to car and other vehicle accidents, common accidents involving wheeled vehicles and equipment include hand-truck and forklift accidents.
Lacerations – Any workplace is filled with numerous sharp objects. Lacerations at work often occur due to poor training, inadequate safety procedures and equipment, or employees failing to use appropriate safety protection or procedures.
Toxic exposure – When job duties require use of chemicals or other substances that are toxic or which give off toxic fumes, employees can be at risk of burns and other injuries when exposed to a substance or its fumes, including eye injuries, skin injuries, and respiratory injuries. Toxic exposure accidents can be avoided with adequate training on safety procedures and having safety equipment on hand, including masks or respirators, eye protection, gowns, and face washing stations or toxic exposure showers.
Loud noise exposure/hearing damage – Many workers are still exposed to constant loud noises throughout the working day. Permanent hearing damage can lead to significant workers' compensation payouts, so employers must ensure that workers are always wearing appropriate hearing protection at all times.
Walking into objects – With the increasing use of glass in workspaces, it is becoming increasingly more common for workers to walk into doors, walls, and other objects. Employers can avoid these accidents by putting unnecessary hazards out of heavily trafficked areas and using visual cues to remind people where glass walls and doors may be located.
Fights or assaults – Unfortunately, physical attacks or assaults can occur with some frequency at work places either due to tension between co-workers that boils over into a physical altercation, due to customers who become violent, or due to workplaces being the victim of crime. Assaults from fights and injuries can be reduced with effective employee grievance procedures to reduce co-worker tensions and with security measures to prevent violence by customers or criminals.
Contact a Erie Workers' Compensation Lawyer to Discuss Your Pennsylvania Workplace Injury Case
A workplace injury can be devastating, particularly if it prevents you from returning to work for an extended period of time. Although Pennsylvania Workers' Compensation laws are supposed to provide you with reimbursement for medical expenses and replacement pay for missed time at work, it is not always easy to get the Workers' Comp benefits you deserve. That is why you should speak with a knowledgeable Workers' Compensation lawyer about your situation and get guidance throughout the claims process. The experienced Workers' Compensation attorneys at Purchase, George & Murphey, P.C. represent clients in Millcreek, Harborcreek, Fairview, Meadville, and all across Pennsylvania. Call (814) 833-7100 or fill out our online contact form today to schedule a consultation about your work injury case. Our main office is located at 2525 W. 26th St., Erie, PA 16506, and we also have offices in Meadville and North East.
The articles on this blog are for informative purposes only and are no substitute for legal advice or an attorney-client relationship. If you are seeking legal advice, please contact our law firm directly.