Craig Murphey Recognized as 2023 Insurance "Lawyer of the Year" by Best Lawyers
September 15, 2022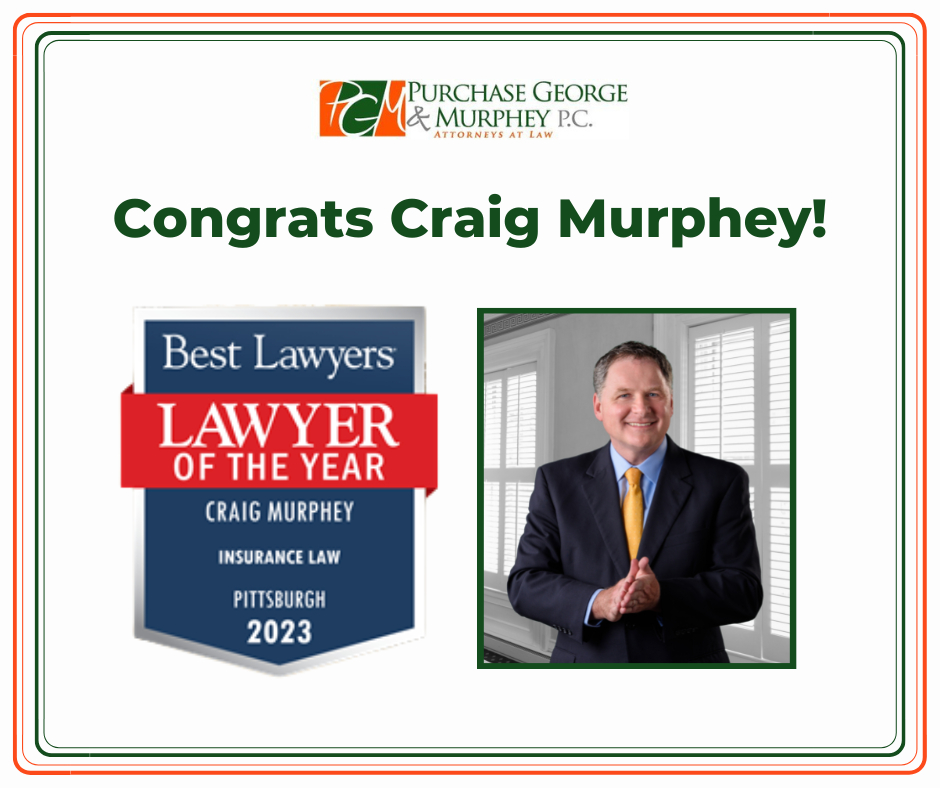 Craig Murphey has just been named the 2023 "Lawyer of the Year" in insurance law in the Pittsburgh region by Best Lawyers. 
Attorney Craig Murphey of Purchase, George & Murphey, P.C. Recognized by Best Lawyers
Craig recently received notice from Best Lawyers in America ® that he has been named the western Pennsylvania 2023 "Lawyer of the Year" in the field of Insurance Law.
How Best Lawyers Selects the "Lawyer of the Year"
Best Lawyers confers the "Lawyer of the Year" honor to only one attorney in each legal practice area and designated metropolitan area, so this is a singular honor. Recognition by Best Lawyers is done solely through a peer review process, as the organization was founded on the principle that the best lawyers should be chosen by their fellow members of the legal profession. A lawyer may be nominated for "Lawyer of the Year" by a fellow attorney. Best Lawyers then sends surveys to currently recognized lawyers for them to evaluate the quality of each nominee's legal work. Nominees with outstanding feedback in collected surveys are then recognized by Best Lawyers. The nominee with the highest overall scores from these peer surveys are recognized as the "Lawyer of the Year" for that practice area and region.
About Craig Murphey
Craig Murphey has been a trial lawyer for more than thirty years. Before joining the firm of Purchase, George & Murphey, P.C., Craig was a partner in one of the largest law firms in Erie, PA, specializing in defending motor vehicle accident cases and other torts involving catastrophic injuries or fatalities. Craig has also represented insurers in various claims on auto, homeowners, or commercial liability policies. Craig has worked on multiple landmark cases in Pennsylvania auto insurance law, including cases involving uninsured/underinsured motorist coverage. Craig has also represented both insurers and insureds in bad faith claims since Pennsylvania enacted its bad faith insurance statute in 1990.
At Purchase, George & Murphey, P.C., Craig advocates for injured accident victims, policyholders, and insurance claimants in all kinds of personal injury, property damage, and other insurance claims. Craig also represents victims of medical malpractice and advises both individuals and companies in business disputes.  He is also a certified mediator and is one of Western Pennsylvania's most sought-after mediators for civil cases of all kinds, especially personal injury actions and insurance coverage disputes. 
Craig has received numerous honors and recognitions for his outstanding work on behalf of clients. Craig has been selected for recognition in The Best Lawyers in America every year since 2012, including being named 2017 "Lawyer of the Year" for personal injury-defense and 2019 and 2023 "Lawyer of the Year" for insurance law in the Pittsburgh region, which includes Erie. Craig has also been named a Pennsylvania Super Lawyer every year since 2011, a peer-selected designation awarded to the top five percent of attorneys in the state. Craig is currently a member of the Board of Governors for the Western Pennsylvania Trial Lawyers Association and previously served as President of the Erie County Bar Association and President of the Pennsylvania Defense Institute. 
Contact an Erie Lawyer to Discuss Your Insurance Case in Pennsylvania
Did you or a loved one sustain serious injuries or property damage due to an accident in Pennsylvania? Don't let the bills pile up while you wait for the insurance company to do the right thing. Right now, you need an aggressive attorney on your side. The skilled attorneys at Purchase, George & Murphey, P.C. represent clients in Millcreek, Harborcreek, Fairview, Meadville, and throughout Pennsylvania. Call (814) 833-7100 or fill out our online contact form to schedule a free consultation about your case. We have an office conveniently located at 2525 W. 26th St., Erie, P.A. 16506, as well as offices in Meadville and North East.
The articles on this blog are for informative purposes only and are no substitute for legal advice or an attorney-client relationship. If you are seeking legal advice, please contact our law firm directly.