How Does Workers' Compensation Work in Pennsylvania?
February 15, 2021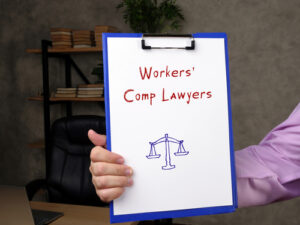 When you are injured or develop an occupational illness in the course and scope of your employment in Pennsylvania, you may be entitled to workmans' or workers' compensation benefits. These benefits are designed to help you cover your medical and living expenses while you recover from a work-related injury or illness. As an employee in Pennsylvania, you should familiarize yourself with the basics of how workers' compensation works in Pennsylvania. An experienced workers' compensation attorney can also help you better understand your rights and options if you've been injured or fallen ill on the job.
What Benefits Are Available Under Workers' Compensation?
An eligible employee who suffers a work injury or develops an occupational illness may be entitled to workers' comp benefits that include:
Reimbursement of the costs of reasonable and necessary medical treatment and rehabilitation required by the work injury or illness
Partial temporary disability payments when a work-related injury or illness prevents an employee from working at full capacity
Total temporary disability payments if an employee must miss work while recovering from their injury or illness
Permanent partial disability, which provides an award of payment for the loss of (or loss of function of) a body part
Total disability, which provides partial wage replacement when an employee is indefinitely or permanently disabled from working
Death benefits, which compensate the spouse and dependent family members of a worker who succumbs to a work-related injury or illness
Read more: Workers' Compensation: Is Your Injury or Illness Work Related?
When Might You Be Eligible for Workmans' Comp?
Any employee who performs work for wages or income is eligible for workmans' comp in Pennsylvania. Benefits are even available to teen workers, part-time workers, and seasonal workers. However, a worker must be classified as an employee — a properly-classified independent contractor may not seek workman's comp from the company that hires them to do work that leads to an injury or illness.
Workmans' comp benefits are available for any injury or illness that arises in the course and scope of an employee's work. The injury or illness need not necessarily occur at the employer's place of work or even while an employee is directly working on a job-related task. For example, you may still be eligible for workers' comp if you are injured in a motor vehicle accident while driving to a client site, or if you fall down the staircase at work while going to the restroom. You might also seek workers' comp benefits for a degenerative injury that can be traced back to your work, such as overexertion injuries or repetitive stress injuries.
Read more: How Do I File a Workers' Compensation Claim in Pennsylvania?
Employers' Requirements to Carry Workers' Compensation Insurance
Employers in Pennsylvania are normally required to carry workers' compensation insurance to pay benefits to employees entitled to workman' comp benefits. However, there are certain exceptions under which an employer may not be required to carry traditional workers' compensation insurance for certain employees, including:
Workers who are covered under other workers' compensation systems (usually provided under federal law), such as federal employees, railroad workers, longshoremen, and seamen
Agricultural workers who fall under certain working day and income thresholds
Employees who are exempt from workers' compensation due to certain executive statuses
Some employers may be entitled to be self-insured for workers' comp purposes, meaning that the employer provides workers' comp benefits themselves, rather than through a private insurer or the State Worker Insurance Fund.
Contact an Erie Workers' Compensation Lawyer to Discuss Your Pennsylvania Workplace Injury Case
A workplace injury can be devastating, particularly if it prevents you from returning to work for an extended period of time. Although Pennsylvania Workers' Compensation laws are supposed to provide you with reimbursement for medical expenses and replacement pay for missed time at work, it is not always easy to get the Workers' Comp benefits you deserve. That is why you should speak with a knowledgeable Workers' Compensation lawyer about your situation and get guidance throughout the claims process. The experienced Workers' Compensation attorneys at Purchase, George & Murphey, P.C. represent clients in Millcreek, Harborcreek, Fairview, Meadville, and all across Pennsylvania. Call (814) 833-7100 or fill out our online contact form today to schedule a consultation about your work injury case. Our main office is located at 2525 W. 26th St., Erie, PA 16506, and we also have offices in Meadville and North East.
The articles on this blog are for informative purposes only and are no substitute for legal advice or an attorney-client relationship. If you are seeking legal advice, please contact our law firm directly.