Experts Warn Against Common Summertime Activity
July 23, 2020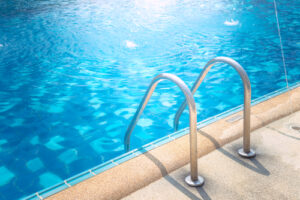 Summers across the country look a little bit differently this year. However, one popular summertime activity that hasn't changed is swimming. Swimming has always been and will continue to be one of the most enjoyable summertime activities, however, parents and caretakers must be even more vigilant as experts are warning about the risks of this common summertime activity.
The Coronavirus pandemic has changed the way we live. From children being home from school to certain states mandating visitors to self-quarantine for several days or weeks upon arrival, families are looking for new and cost-effective ways to spend time together. Pools, it seems, have been people's go-to. According to a report by the NPD Group, swimming pool sales have increased a whopping 160% this year. One Pennsylvania resident jokingly told Good Morning America that she snagged the last swimming pool in North America.
However, there are new elements that families are facing unlike anything from years prior. After the onset of the pandemic, many Pennsylvania residents have been tasked with having to juggle multiple responsibilities all while trying to work remotely. This is one of the main reasons why experts are warning against the dangers of swimming pools in 2020.
Drowning Incidents Are Increasing
According to the John Hopkins All Children's Hospital in St. Petersburg, Florida, child drowning incidents are up 150% when compared to this time two years ago. Dr. Patrick Mulalroni, a physician at the hospital thinks he knows why. He is quoted saying, "With parents working from home and trying to provide that supervision of their children while working, it leads to more opportunities for children to get out of the house and to get to a pool or a body of water."
A California mom experienced this nightmare after her toddler wandered off to the pool while her husband was working from home. The mother, a former EMT, had to perform CPR on her daughter until an ambulance arrived. Upon arrival at the hospital, medical staff warned that the child might have suffered brain damage as a result of not having a pulse for nearly twenty minutes. Luckily, the daughter survived and is doing well, however, this story is a prime example of how quickly a tragic incident can occur.
Related Blog: Pool Safety Tips
Contact a Fairview Personal Injury Lawyer to Discuss Your Swimming Pool Accident Case in Pennsylvania
Did you or a loved one sustain serious injuries due to a swimming pool accident in the state of Pennsylvania? Don't let the medical bills pile up while you wait for the negligent party or their insurance company to do the right thing. Right now, you need an aggressive personal injury attorney on your side, fighting to get you the compensation you need, want, and deserve. The skilled attorneys at Purchase, George & Murphey, P.C. represent clients injured because of a swimming pool accident in Erie, Millcreek, Fairview, Harborcreek, and throughout Pennsylvania. Call (814) 273-2010 or fill out our online contact form to schedule a consultation about your case. We have an office conveniently located at 2525 W 26th St., Erie, PA 16056, as well as offices in Meadville and North East.
The articles on this blog are for informative purposes only and are no substitute for legal advice or an attorney-client relationship. If you are seeking legal advice, please contact our law firm directly.