How To Choose A
Pennsylvania DUI Lawyer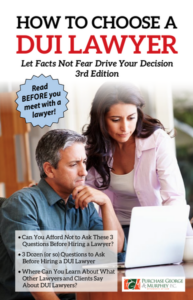 Last night, the last thing on your mind was a good DUI lawyer. Today, it's all you can think about. We understand. Begin by getting good information – before you do anything else. Our free ebook contains information that will help you get started. Here is what you'll learn about how to choose a DUI lawyer in Erie, Meadville or Warren, Pennsylvania before you waste time calling anyone or missing work to drive across town for a "free consultation."
Some of what you'll learn:
You've Already Made a Smart Choice
DUI Arrests are on the Rise
Most People Don't Know Where to Get Help
Choosing the Right Lawyer is Difficult
You Have Questions
You Need Answers
The Truth is Most Lawyer Advertising Doesn't Help
The 5 Biggest Mistakes Other People Make When Choosing a DUI Lawyer
You Can Avoid These Mistakes
What You Need is Real Information
You Need Answers. And You Need Them Fast!
You Get Real Information Only By Asking the Right Questions
Ask These 5 Questions Before You Meet Any Lawyers
Ask These Questions When You Meet Any Lawyers
Ask Yourself These 5 Questions After You Meet Any Lawyers
You May Have Other Questions… Ask Them
The Secret to a Winning Relationship with Your Lawyer
Real Communication Involves More than Just a Lawyer Talking
Get Your Free eBook About How to Choose a DUI Lawyer Before You Meet Anyone.
REMEMBER: Requesting our book does not make you a client of Tim George or Purchase, George & Murphey, P.C. This book is just a way to educate yourself about the challenges and difficulties you face choosing a DUI lawyer and how to make smart decisions as you look for solutions to the problems a Pennsylvania DUI creates for you. There is no charge for these books and your contact information will not be sold or given away to anyone.