What is Hospital Negligence?
January 20, 2021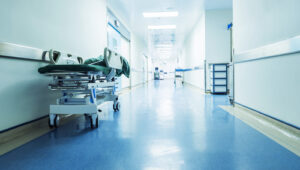 Nobody likes being in the hospital, especially as a patient. Unfortunately, sometimes the stay in
the hospital winds up being more dangerous than the procedure. Hospital negligence happens when a patient is injured by way of negligent act, omission, or error. Determining who is ultimately liable for the mistake can be a tall task. Having the attorneys of Purchase, George & Murphey, P.C. fighting for you in court is the best way to ensure your rights as a patient are secure.
How Does Hospital Negligence Occur?
What actually constitutes hospital negligence? The hospital must adhere to the standard of care. In other words, patients have the right to assume the hospital will provide care consistent with modern medicine. If a hospital does not meet these standards, if they perform unnecessarily risky procedures, they may be guilty of hospital negligence.
Additionally, to be considered hospital negligence, a patient must be able to prove that mistakes made by the hospital caused the patient's injury. Simply having an unfavorable outcome from a procedure does not always imply negligence. Lastly, a patient must have some kind of damages to qualify as hospital negligence. This might include:
Loss of wages
Medical bills
Pain and suffering
Disability
And more
Who is Responsible for Hospital Negligence?
There can be many misconceptions regarding fault and liability for a medical injury sustained in a hospital. To start, a lot of doctors are not actual employees of the hospital. Since they are technically independent contractors, it can be difficult to make the hospital responsible for a doctor's error. While it may seem like a simple yes or no, determining whether a doctor is an employee of the hospital or not can be complicated.
It's important to remember that it's not just doctors who can be guilty of negligence; nurses, medical technicians, and many others hospital employees can also be guilty of hospital negligence. If the patient injury occurred due to the negligence of any of the hospital's staff, then the hospital could be liable.
Some examples of hospital employee negligence could include:
Unnecessary surgery
Poor follow-up care
Not ordering the right tests
Incorrectly reading test results
Ignoring a patient's medical history
And more
Essentially, if a hospital employee's error by negligence results in your injury, you could have a claim.
The hospital can also be held liable if it is found they did not do their due diligence when hiring staff. For example, if a doctor on their staff is known to have a drinking problem, or perhaps their credentials were never fully verified, the hospital can be found liable for injuries and damages caused by the doctor's negligence.
Contact An Erie Medical Malpractice Attorney for a Consultation About Your Case in Pennsylvania
Were you or a loved one injured due to medical malpractice in Pennsylvania? Then you need to talk to an experienced medical malpractice lawyer as soon as possible for guidance on how to proceed. The Millcreek medical malpractice attorneys at Purchase, George & Murphey, P.C. are prepared to assist you with your legal claim. We represent victims of negligent surgeons, doctors, nurses, and pharmacists throughout Pennsylvania, including Erie, Millcreek, Harborcreek, and Fairview. Call us today at (814) 273-2010 or fill out our online contact form to schedule a consultation. Our main office is located at 2525 W 26th St. Erie, PA 16506, and we also have offices in Meadville and North East, PA.
The articles on this blog are for informative purposes only and are no substitute for legal advice or an attorney-client relationship. If you are seeking legal advice, please contact our law firm directly.