What If I Get a DUI on Valentine's Day?
February 8, 2022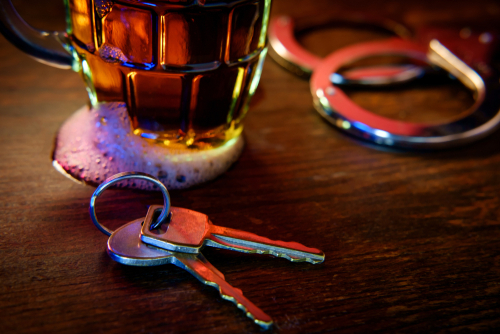 While chocolates or flowers may be on the list of things you expect to get this Valentine's Day, a DUI likely is not. If alcohol is a part of your Valentine's Day celebrations this year, it's important to know what to do if you're pulled over and charged with a DUI. Knowing your rights, and how to handle a DUI charge, can help you prepare for Valentine's Day or any other holiday.
What to Do If You're Pulled Over on Valentine's Day
You're driving home from a romantic dinner with your partner on Valentine's Day and notice a police officer trailing you. Do you know what to do? Do you know what your rights are, and whether or not you have to share that you have had a couple of drinks?
Here are a few tips to remember if pulled over on Valentine's Day this year:
Always pull over: If a police officer requests that you pull over, it's best to pull over. Not pulling over and ignoring the police officer can lead to potentially even worse charges.
Keep your hands on the steering wheel: Always keep your hands on the steering wheel when pulled over. Don't reach for your insurance or registration until instructed to do so.
Be honest: It's also a good idea to be honest with the police officer. If you have had a drink or two, tell them.
Be polite: It can be incredibly frustrating getting pulled over. But, being polite can reduce the chances of having any other problems.
Consider your options if asked to test: While you may have a right to refuse a breathalyzer test, that doesn't negate any potential consequences.
Some people have questioned the accuracy of breathalyzer or field sobriety tests. However, Pennsylvania's implied consent law means that you agree to take a test if pulled over under the suspicion of a DUI when you sign for your driver's license.
If you do decline to take the test, be polite. Aggressive behaviors toward a police officer can lead to charges later. You do have a right to remain silent, and you can exercise that right until you have spoken with a lawyer. Whether or not you agree to a test, and if you've been taken in for a DUI, the next best step is to talk with a lawyer.
Potential Consequences of a DUI
A few of the potential consequences you may receive if convicted of a DUI in Pennsylvania include probation, legal fines, required DUI classes, and drug and alcohol treatment.
You may also experience additional consequences if you refuse to take a test, including jail time, suspension of your driver's license, or expensive fines.
As you can tell, refusing to take the test can sometimes lead to worse consequences than that of a first-time DUI charge. You may have more defense options available if you agree to the test. If you are charged with a DUI in Pennsylvania, reach out to a criminal defense lawyer as soon as possible to learn more about your options.
Contact an Experienced Erie Criminal Defense Lawyer About Your DUI Charges in Meadville
Were you arrested or charged with DUI in Pennsylvania? The consequences of a conviction could be severe, leaving you with a permanent criminal record and possibly even sending you to jail. That is why you need to speak with a qualified criminal defense attorney as soon as possible about your case. The attorneys at Purchase, George & Murphey, P.C. have successfully represented clients charged with a DUI in Erie, Millcreek, Harborcreek, Fairview, and throughout Pennsylvania. Call (814) 833-7100 or fill out the online contact form to schedule a consultation with a member of our legal team. We have an office conveniently located at 2525 W 26th St, Erie, PA 16506, as well as offices located in Meadville and North East, PA.
The articles on this blog are for informative purposes only and are no substitute for legal advice or an attorney-client relationship. If you are seeking legal advice, please contact our law firm directly.
Disorderly conduct consists of any improper behavior such as fighting, threats of violence, or creating a dangerous atmosphere.