How to Avoid a Car Accident This Fall Season
October 28, 2020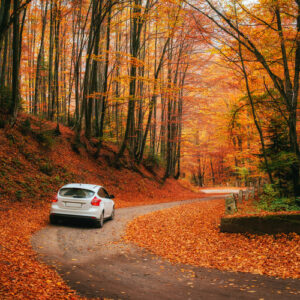 The autumn season is great, isn't it? The weather is crisp and cool. The leaves are changing colors. Even things like Daylight Savings Time kick in to spoil us with an extra hour of sleep! While there are so many wonderful things about the autumn season, it's important to remember that it does come with its fair share of risks and dangers. Here's how you can stay safe this autumn season.
Be on the Lookout for Deer
It may seem like a silly thing to mention, but deer mating season tends to be at its peak during October and November, which means, you're likely to see more deer on your commute to and from work. According to statistics from the Insurance Institute for Highway Safety, drivers are actually 3.5 times more likely to hit a deer during the month of November than any other time of the year. In fact, according to a report from State Farm, Pennsylvania had one of the highest number of animal collision accidents between July 2018 and June 2019.
Be Aware of Leaves
Sure, leaves are pretty to look at when they're on the trees but they can spell big trouble when they fall onto the road. Leaves, especially in more wooded areas, can fall down in abundance, covering up potholes, drainage areas and other pavement markings that could affect a driver. Because leaves are naturally designed to repel water, any water that gets on them tends to stay on the waxy surface creating a slickness that's similar to ice. When these leaves cascade onto the roadway, it can create a very slippery situation for a driver as they reduce the vehicle's traction, making it much more difficult to come to a stop.
Drive Safely in the Dark
One of the caveats of the autumn season is that it gets dark earlier, which means the majority of commuters will be driving in darkness on their way home from work. According to the National Safety Council, a driver's depth perception can be drastically compromised in the dark and the glare from headlights from oncoming vehicles can temporarily blind a driver. If this isn't scary enough, studies show that drivers who are 50 years of age and older might need twice as much light to see as someone in their 30s. Always make sure you're allowing for a safe following distance from other drivers, obey the speed limit and make sure to visit your eye doctor regularly to make sure your vision is okay. If you ever feel uncomfortable driving at night because it's difficult to see, make sure you call a friend, relative, co-worker or rideshare service who may be able to get you back home safely.
Be on the Lookout for Kids
While the Coronavirus pandemic has shifted the way kids are attending school these days, some districts have opened with restrictions, which means more school traffic on your morning commute to work. Back to school season, means that not only will more cars be on the road, but kids may be walking to and from their bus stop, walking home with friends or darting across the street to get back to their parents' car. New teen drivers may also be on the road who may be speeding or driving recklessly. Always reduce your speed in a school zone and remain vigilant as you drive through these crowded areas.
Contact a Millcreek Personal Injury Lawyer to Discuss Your Car Accident Case in Pennsylvania
Did you or a loved one sustain serious injuries due to a car accident in Pennsylvania? Don't let the medical bills pile up while you wait for the negligent party or their insurance company to do the right thing. Right now, you need an aggressive personal injury attorney on your side, fighting to get you the compensation you need, want, and deserve. The skilled attorneys at Purchase, George & Murphey, P.C. represent clients injured because of a car accident in Erie, Millcreek, Harborcreek, Fairview, and throughout Pennsylvania. Call (814) 273-2010 or fill out our online contact form to schedule a consultation about your case. We have an office conveniently located at 2525 W 26th St., Erie, PA 16506, as well as offices in Meadville and North East, PA.
The articles on this blog are for informative purposes only and are no substitute for legal advice or an attorney-client relationship. If you are seeking legal advice, please contact our law firm directly.