Top-Rated Personal Injury & Medical Malpractice Attorneys in Pennsylvania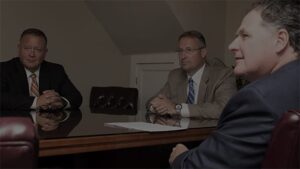 Watch Our Firm Overview Video to
See How We Can Help You
The lawyers at Purchase, George & Murphey, P.C. have many years of experience helping people who have been harmed by the negligence, or carelessness, of others. We know that if you suffer a serious injury, you have lots of questions:
Will I ever work again? How will I pay my bills? Who will take care of my family?
You've come to the right place for answers. Our Pennsylvania personal injury lawyers work hard to obtain compensation for clients who face these difficult questions. We have an in-depth understanding of insurance companies and the tactics that they use to avoid paying claims. By working with Purchase, George & Murphey, you can rest assured that a knowledgeable, experienced legal advocate is on your side and fighting for your future. We represent clients throughout Pennsylvania, including Erie, Meadville, and Edinboro, PA.
Erie, Pennsylvania DUI and Criminal Defense Lawyers
You may never have been in trouble. Before you were charged with a criminal offense or DUI in Pennsylvania, you may have taken your freedom for granted. Now your freedom is all you think about. The lawyers at Purchase, George & Murphey understand how you feel. We don't take freedom for granted.
You probably have lots of questions:
Will I go to jail? Will I lose my driver's license? How will I support my family?
We will answer your questions and get you good information. Getting to the best possible result starts with listening to you. You can expect responsiveness and compassion for what may be one of the most difficult problems you will ever face. We will do everything possible to defend your freedom and fight for you, your family, and your livelihood.
Take Action Today: Call Our Experienced Pennsylvania Lawyers to Learn About Your Rights
If you have been hurt by someone else's carelessness, or if you are facing criminal charges, it is never too soon to learn about your rights and your options. We offer a free consultation that will give you the opportunity to talk with us without obligation. We will discuss the facts of your case, the effects on you and your family, and the strategies available for making things right again. Call us today at 814-273-2010 or use our online contact form to schedule an appointment.
Erie Personal Injury Lawyers | DUI Attorneys | Medical Malpractice Erie, PA
The Cases We Handle at Our Pennsylvania Law Firm
Our Erie attorneys help people who have been injured as a result of accidents or negligence. We handle a wide range of these personal injury cases, including:
We also defend people charged with criminal offenses in PA, mounting a vigorous defense against charges involving:
Sex Offenses: including rape, IDSI, and indecent assault
Drug Charges: including PWID, drug possession, and paraphernalia
Violent Crimes: including murder, aggravated assault, assault, and harassment
Serious Traffic Offenses: including driving under suspension and reckless driving
Each case, whether personal injury, medical malpractice, drunk driving, or criminal, is different. That is why we take the time to tailor an individual strategy for each person to obtain the best possible outcome. We investigate the case, review evidence, request police reports, and consult with experts to be sure that our legal strategy is the right one for you.
Why Hire Our Erie, PA Lawyers?
Our lawyers have a unique blend of knowledge and experience. We use a team approach, making sure that our strategy is the best one for each individual client. The legal team at Purchase, George & Murphey includes a former prosecutor, former insurance company defense lawyers, and a former insurance company claims supervisor — all of whom now devote all of their efforts and experience to helping injured people and people accused of criminal wrongdoing.
We limit the number of cases that we accept so that you can receive the time and attention that you and your case deserve. As long-time residents of Erie County, PA, we understand the legal system and we work hard to be good community members. Many of the people we help are our neighbors, police officers, doctors, teachers, and others who have known us for years. When you hire Purchase, George & Murphey, you will be treated the same way that we would treat our own friends and family — with respect, personal attention, and dedication. Here, our clients come first.
Have Questions? Call Purchase, George & Murphey, P.C. for a Free Consultation
If you are wondering whether we handle cases like yours, you want to know about our fees, or you are considering taking on an insurance company by yourself, contact us. You will find every member of our team to be friendly, approachable, and willing to listen to you and answer your questions. We expect that you will have lots of questions. We are happy to provide the answers. To schedule your free meeting, call 814-273-2010 or submit your questions using our convenient contact form or our live online chat option.